Your Trusted Replacement Window and Door Contractor for Woodstock, GA
If you love living in Woodstock, one way to enhance your home is to bring the outdoors in with high-caliber window and door installations. Let excessive maintenance, a lack of energy efficiency, and run-down materials be a thing of the past with replacement windows and doors from North Georgia Replacement Windows.
Lasting Fiberglass Replacement Windows
We don't waste your time (or ours) with low-quality replacement windows. We only install Infinity® from Marvin windows, a durable, customizable, and efficient option.
Extreme Durability— Ultrex® fiberglass is 8 times stronger than vinyl, creating windows that won't easily crack or warp from the Georgia elements.

Lasting Beauty— With numerous style and color options, you can achieve a beauty tailored to your Woodstock home. Infinity windows have thinner frames for maximum views.

Minimal Upkeep— Infinity windows require less maintenance than other options. Plus, their tilt-in frames make cleaning simple.

Efficiency— Fiberglass with a low thermal expansion rate, results in a tight, energy-efficient seal for years. The windows also feature Low E glass options with argon insulation to achieve maximum efficiency.
Outstanding Replacement Doors
Gain secure, lasting, and beautiful exterior doors from your entryway to your patio with a superior door installation from North Georgia Replacement Windows.
Infinity from Marvin Doors
Maximize your indoor-outdoor living with easy to operate and durable Infinity® from Marvin patio doors. Choose between hinged and sliding doors in a variety of styles to best suit your home.
ProVia Doors
The fiberglass and steel patio door options of ProVia® provide energy efficiency, high levels of security, and a lasting beauty for your home's entryway, patio, or storm doors.
Best Replacement Window for Woodstock, GA?
Woodstock, Georgia homeowners want to put the best replacement windows and doors in their home. And the best products are made from the best materials. Let's take a look at common materials for replacement windows and doors so you can made an educated and informed decision.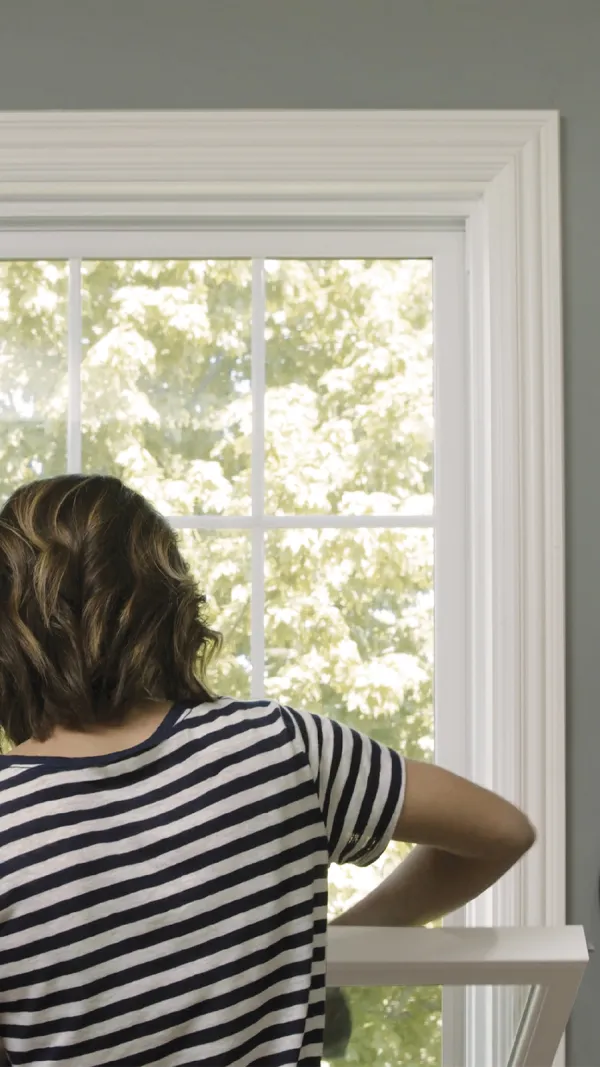 Infinity's Ultrex® Fiberglass
Ultrex® fiberglass is an innovative material pioneered over 20 years ago, making it one of the first premium composites on the market. Ultrex fiberglass replacement windows and doors are 8x stronger than vinyl, which means thinner frames and more daylight with bigger views. They also have have an acrylic finish that is three times thicker than the competition.
Other Fiberglass
The strength and durability of fiberglass make it a good option for replacement windows and doors. Not all fiberglass materials are the same — and finishes can vary across manufacturers.

Vinyl
While vinyl is frequently the cheapest option, vinyl windows and doors have thick frames that take up daylight views. Likewise, vinyl can warp, shift and crack under everyday conditions.

Wood
Wood windows offer more strength, stability and beauty than vinyl, but they tend to require more maintenance (painting, rotting, etc.) than other window materials.

Vinyl/Wood Composites
Vinyl/wood composites like Fibrex® are made from vinyl infused with wood fibers (sawdust). Fibrex® isn't fiberglass.
Fibrex® is a registered trademark of Andersen Corporation.

Get the Best Window and Door Installations with North Georgia Replacement Windows
As part of the Atlanta metro area, Woodstock offers a variety of food, music, and more with easy access to all Atlanta has to offer. It is a lively community with a thriving music scene and a variety of outdoor recreation.
Spend less of your valuable time on home maintenance and more time enjoying all Woodstock has to offer. Our North Georgia Replacement Windows team is the exclusive Infinity windows contractor in Georgia. Rest assured you are receiving a seamless installation of the highest-caliber products for a lasting replacement.
When you're ready to give your home the best, request a proposal!