Infinity® Casement Windows
Beautiful, Efficient Casement Windows for Your Georgia Home
Do you need help opening windows in hard-to-reach spaces, like above your kitchen sink?
Have you been craving better views and more ventilation in your home, but you feel like your current windows aren't quite doing the trick?
If so — you will love the unique features and benefits of casement windows!
North Georgia Replacement Windows is the exclusive dealer of Infinity from Marvin® casement windows in the state of Georgia. Discover how we can help you illuminate your spaces and circulate fresh breezes in your home with reliable casement window installation.
What Are Casement Windows (& How Do They Work?)
Casement windows (also called crank-out windows) are hinged at the side and open outward to the left or right. They are usually opened with a handle that slowly cranks the window open.
Unique Benefits of Casement Windows for Georgia Homeowners
North Georgia Replacement Windows exclusively installs Infinity from Marvin casement windows. These windows offer the following benefits that outweigh other popular styles:
Refreshing Ventilation
When you open a single-hung or sliding window, you can only invite refreshing breezes through 50% of the window. However, when you open a casement window, you can crank the entire windowpane open — allowing for more fresh air inside your home!
Casement windows are also more efficient than other window styles when they are closed. The window presses against the frame to eliminate air leaks and reduce your utility bills.
Effortless Maintenance
Infinity from Marvin windows are made from Ultrex® — a fiberglass material eight times stronger than vinyl and three times stronger than wood composite products. This means your casement windows are immune to cracking, rotting, or chipping and only require minimal maintenance.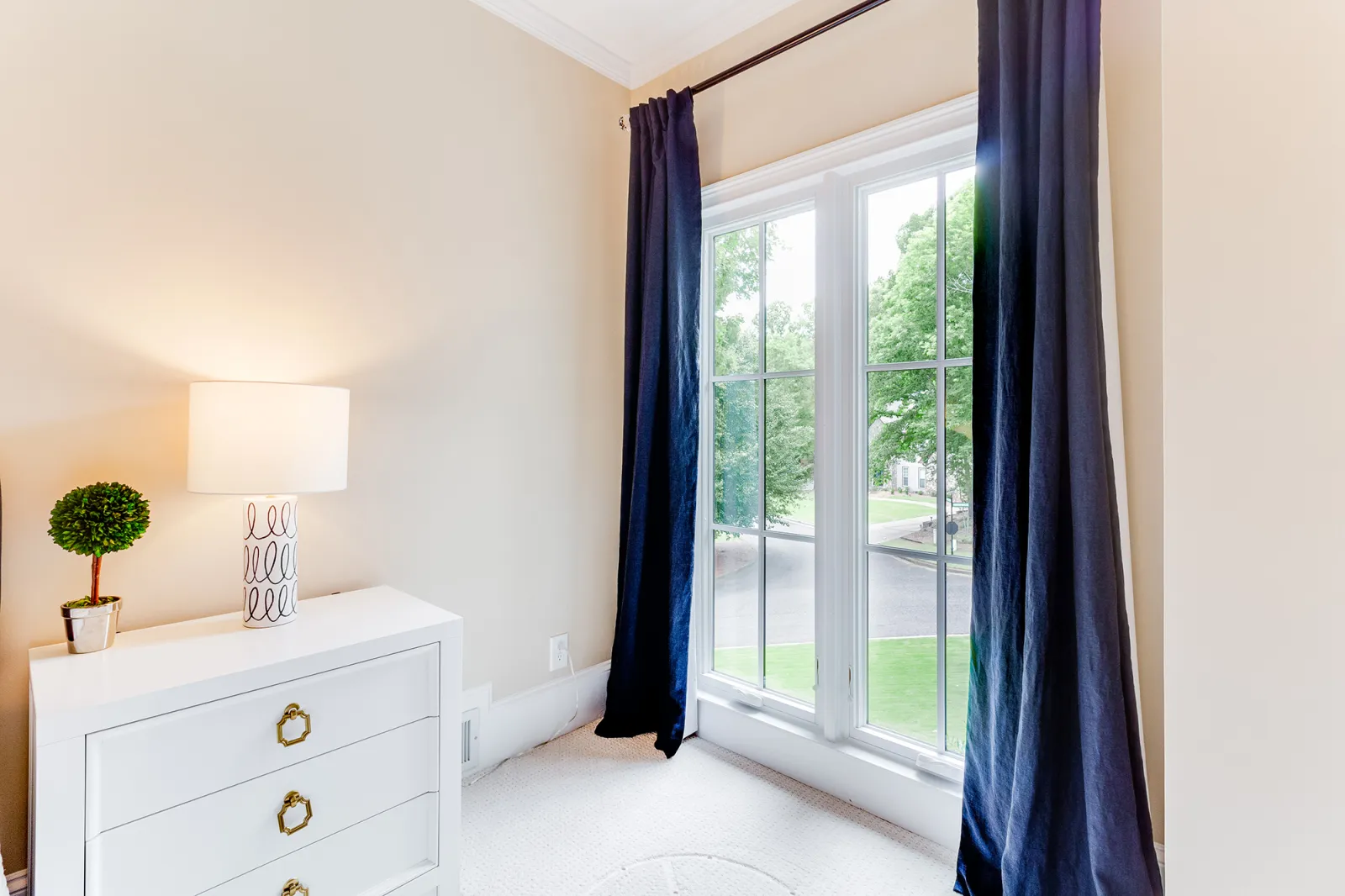 However, when it is time to clean your windows, the Easy Wash® hinge makes it easy to comfortably clean both sides of your windows from inside your home.
Unobstructed Views
Since casement windows crank open (as opposed to sliding), they don't have a horizontal check rail obstructing the view from the center of your window system — making it easier to admire your gorgeous backyard landscape from inside your home.
Because of the strength of Ultrex, Infinity from Marvin can produce windows with thinner frames that offer more daylight and bigger views. These windows also come with an optional Clear View® hinge to keep the sash tight to the frame for an expanded viewing area.
Extra Security
Infinity from Marvin casement windows come with a multi-point locking system for an added boost of security. They also come with folding handles that tuck conveniently out of the way, for a more aesthetically pleasing look.
Reasons to Install Casement Windows with North Georgia Replacement Windows
When you install Infinity from Marvin casement windows with North Georgia Replacement Windows, you will enjoy the following perks:
Special Offers — We provide monthly specials, flexible payments, and do not require a minimum, so whether you need one window or thirty windows, we are here to help.

Customizable Options — We offer plenty of options to customize your casement windows, including various configurations, grille patterns and colors, hardware finishes, and even an option for wrapped screens to match your interior trim.

Beautiful Finishes — We give homeowners several exterior and interior finish options, including EverWood®. This finish looks, stains, and feels like natural wood, but unlike wood, it offers low-maintenance upkeep and will not rot, chip, stain, or fade.
Enjoy Hassle-Free Installation with North Georgia Replacement Windows
If you are ready to enjoy lower energy bills, easier cleaning, and enhanced security while experiencing more daylight and ventilation in your home — it is time to invest in new Infinity fiberglass casement windows with North Georgia Replacement Windows.
As each project is different and the steps may vary, we follow this general process to ensure your casement window installation is hassle-free and delivers the high-quality performance you expect:
Step #1 — Remove the exterior trim, old window, and jamb liner.

Step #2 — Install flashing tape across the sill to create a water management system.

Step #3 — Install the new window, using spray foam to properly insulate.

Step #3 — Install the frame expander to connect the new frame with the exterior trim.

Step #4 — Caulk the interior and exterior for superior insulation.
Contact us to request a no-obligation proposal, and let us enhance your home with beautiful, energy-efficient, durable casement windows today!