Did you know that Atlanta, Georgia is one of the only cities in the entire country with homes that feature small 10" sidelites, as opposed to larger, more common, 12" or 14" sidelites?
Sidelites (also called sidelights) are slender vertical windows on either side of a door. While they can be installed individually, it is not recommended. Sidelites have a continuous sill/threshold across the bottom. By replacing just the sidelite, you run the risk of damaging your door unit.
Why Do Georgia Homes Have Such Small Sidelites — And What Problems Do They Cause?
If you're wondering why the sidelites in Georgia are so much smaller than the rest of the country — that's a great question, and one we'd be happy to answer!
When many homes in Georgia (specifically in Atlanta) were built, many contractors and builders decided to make their own sidelites rather than ordering them from a reliable manufacturer. Instead of creating 12" or 14" sidelites, like the industry standard, they created 10" door sidelites — which, since they were custom-made, are difficult for homeowners to come by when seeking a door replacement.
When these 10" sidelites were installed, they were made of natural wood and not appropriately sealed by the contractors. Unfortunately, these sidelite frames have started to rot and decay due to the rain and humidity in Atlanta — leaving homeowners with damaged entry doors and sidelites — and nowhere to turn for help.
Where Can I Find a Contractor Who Will Replace My Deteriorating 10" Door Sidelites?
As a homeowner in Atlanta, Georgia, it can be discouraging when you need to replace your damaged entry door with sidelites — and it's hard to find a single contractor in the entire state who sells or installs them. We understand your frustration, which is why we're here to help!
North Georgia Replacement Windows installs durable, beautiful entry doors and windows for Georgia homeowners. Since we live in Georgia, just like you, we understand the unique challenges of your 10" sidelites, so we carry custom-sized products from various door manufacturers, including: ProVia, Plastpro, and MaxCraft Doors® to ensure your replacement door is the perfect shape for your home.
Valuable Benefits of Enhancing Your Georgia Home with New Sidelites
Sure, sidelites that were not installed properly may be problematic, but once you replace your front door and sidelites with brand-new doors from North Georgia Replacement Windows, you can enjoy these spectacular benefits:
Natural Light
Without sidelites, your entryway could become dark and dim — and that's not the first impression you want to give to guests! With new sidelites, you can invite plenty of natural light into your home, creating a warm, welcoming, and open feeling in this gathering space.
Gorgeous Views
Want to keep an eye out for the company you're expecting, or maybe an important package (or two… or three…) from the mailman? Sidelites make it easy to see what's happening in front of your home clearly, so you don't have to look at fuzzy images through a peephole.
Refreshing Breezes
In the past, sidelites were fixed windows just for looks — not for function. However, today's sidelites can be opened for fresh air, so you can enjoy cool breezes in your hallway while having peace of mind that your front door is securely locked.
Multiple Styles
Whether you want to add a historic charm or contemporary appeal to your entryway — you'll find a front door and sidelite combination ideally suited for your home's architecture and personal style. If you'd like, you can even coordinate your sidelites to match your windows!
Extra Privacy
If you're worried about sidelites disrupting your privacy — no problem! We install sidelites with frosted, beveled, or stained glass to provide extra privacy and offer interest and curb appeal to your home's entryway.
Reasons to Install a Double Entry Door in Place of Sidelites
Sidelites may have many incredible benefits, but we also understand if you'd like to "do away" with your sidelites and update your curb appeal.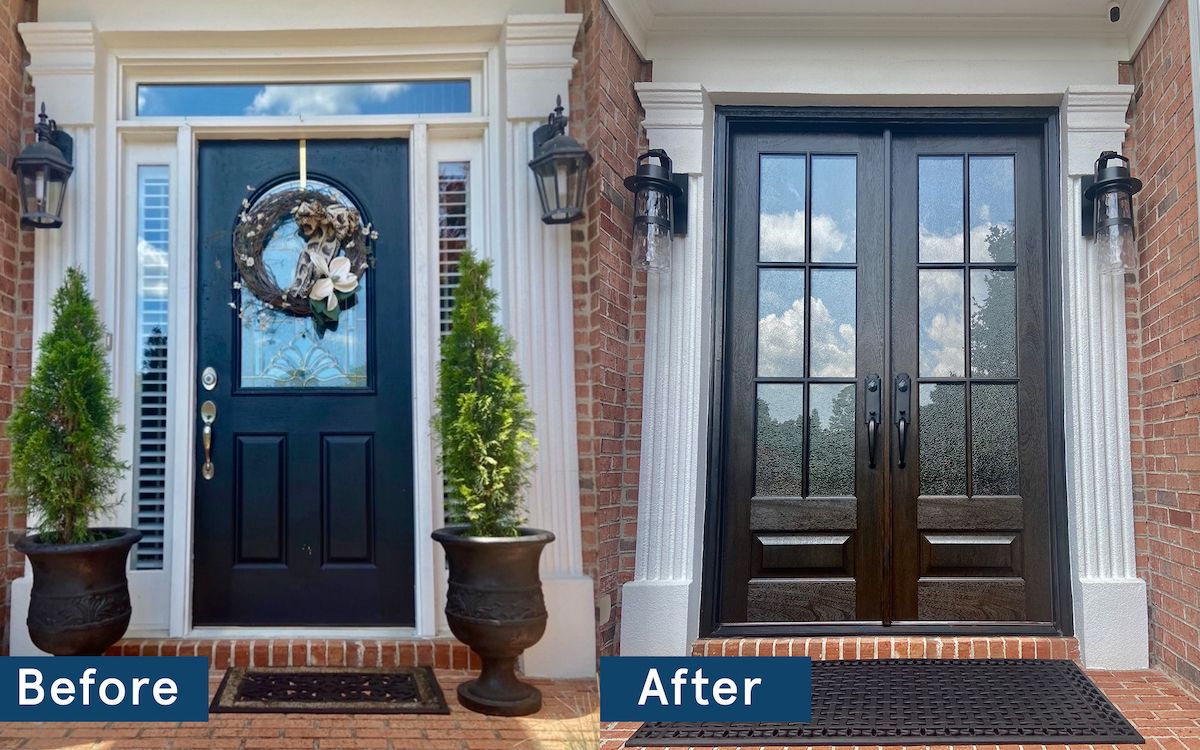 North Georgia Replacement Windows also installs modern double entry doors to perfectly occupy the space formerly filled by a front door, sidelites, and even a transom. These are some of the reasons homeowners choose to replace their front door and sidelites with a durable double door system:

Larger Entryway. Whether you're welcoming guests into your home for a party or moving out bulky items like a sofa, double doors make it easier to carry things or move people in and out of your home.
Cohesive Architecture. Some home styles are just better suited for double doorways. For example, most colonial homes, from Dutch Colonial to Federal Colonial, have a stately appearance that is enhanced by double-door entrances.
Extra Lighting. Sidelites can invite sunlight into your home, but not quite as much as a double door system with stylish glass accents. Double doors with large glass panes (you can choose frosted for privacy) are like extra windows in your home.
Bold Impression. Double doors offer more than a considerable boost in curb appeal — when you open large double doors to a spacious living room or even grand staircase, you can make a statement when guests when they enter your home!


Invest in Entry Door Replacement with North Georgia Replacement Windows
Whether you want to spruce up your current wood entryway with brand-new, custom-fit sidelites, or you'd like to replace them entirely with an elegant double door — our team at North Georgia Replacement Windows can help.
We install fiberglass doors from ProVia®, Plastpro®, MaxCraft, and ThermaTru®, and of course, double door systems from MaxCraft Doors. We have access to manufacturers who make 10" door sidelites, so unlike other contractors, we'll be able to help you replace your old, rotted sidelites with durable, beautiful new ones.
Learn more about our single and double door systems,, and if you have any questions, please reach out to our knowledgeable team. We would love to help you find what you're looking for to beautify and strengthen the entryway of your Georgia home.