A Word From Our Owners
Ted Kirk and Jonathan Collum became friends long before North Georgia Replacement Windows was ever thought of. From playing football to camping, it was in these early years that Ted and Jonathan formed the foundations that would one day serve them in the business world. NGRW is built on Christian principles, and it is our desire to always do the right thing. From offering quality products to detailed and precise installation techniques, we want to create an experience that exceeds your expectations. Although this may be your first time replacing your windows, we want it to be your last.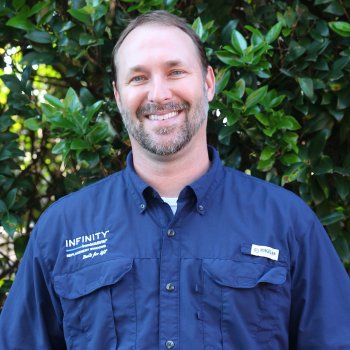 Ted Kirk, President
Ted Kirk is President and co-owner of NGRW. Ted says, 'The people at our company are like family that I can always depend on to do the right thing. It's also an honor to be the Georgia provider of the Infinity from Marvin fiberglass window, the best window made in the country. I love serving our customers and providing an experience that our customers love.' When he's not working at the office, he is usually spending time with his family (wife, 7 daughters, and their dog Marley) or outside in the woods, on the water, or working on his farm. He loves to learn, so he reads, listens to podcasts, and always tries to learn from and help others. Above all, he places his faith in God. (Colossians 3:23)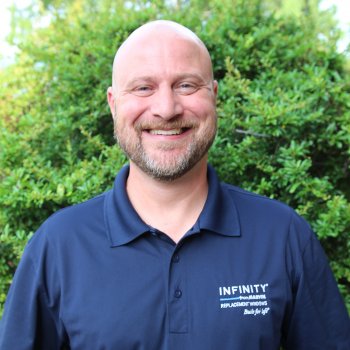 Jonathan Collum, Vice President
Jonathan Collum is Vice President and co-owner of NGRW. Although he wears many hats, he focuses on the production side of things to make sure everything is operating smoothly.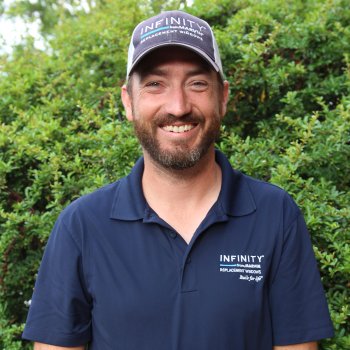 Clint Mobley, Construction Manager
Clint oversees our project managers and installers. He also works alongside our sales team on more complex projects, offering his construction expertise and knowledge. What's his favorite part about working at NGRW? 'The people that I get to work with and the customers I get to work for. In my 16 years of window experience, it's nice to have a product that I truly believe in.' Some of Clint's interests include playing hide-and-seek with his boys, playing music (he's in a band), hunting, and giving his wife, MaryAnn, a night off cooking.
Email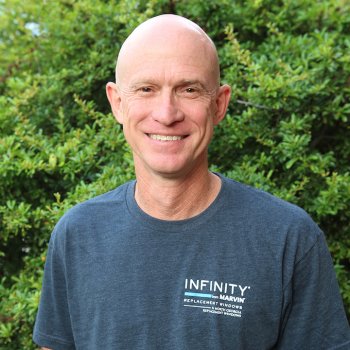 Mike Schmid, Production Manager
As production manager, Mike makes sure our production team works as efficiently as possible. What he loves about working at NGRW: 'We always put our customers first.' Some fun facts about Mike: besides being with his family, he loves cycling, hiking, and being outdoors.

Email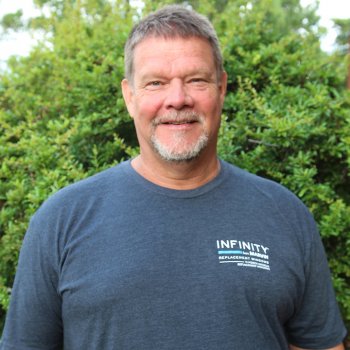 Jimmy Monroe, Project Manager
As a project manager, Jimmy is one of the first faces you may see once your project gets underway. He handles re-measuring, preparing material lists, customer service, and sometimes visiting job sites on installation day. He is happy to help out whenever needed - and does so with a smile! When Jimmy is not at work, you can probably find him spending time with his wife and their six grandkids, as well as playing guitar on the worship team at church.
Email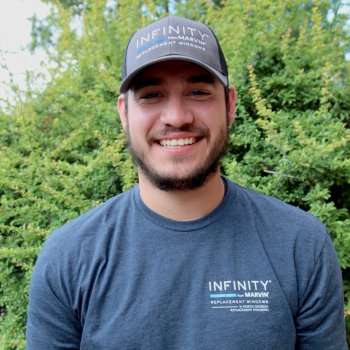 David Kelley, Project Manager
As a project manager, David is one of the first faces you may see once your project gets underway. He handles re-measuring, preparing material lists, customer service, and sometimes visiting job sites on installation day. Why does he love working at NGRW? 'I love the family atmosphere that I get every single day from each coworker, the great customer service we give to our customers, and the genuine feeling that I accomplished something at the end of each day.' Outside of work he loves playing sports, being outdoors/hiking, being a worship leader at his church, and spending time with his wife. His life Bible verse is Psalm 37:4
Email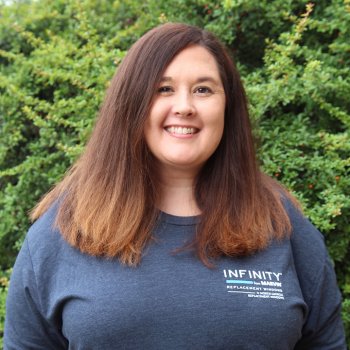 Mandy Mason, Installation Coordinator
Mandy schedules all of our installations and painting/staining. Why she likes her job? 'Not only is NGRW my extended family, but we treat our customers like family and will always go the extra mile for them.' Some fun facts about Mandy: She loves to design/decorate spaces for other people with her husband. She also enjoys spending time with her dogs and traveling to Alabama and Indiana to visit family every chance she gets.
Email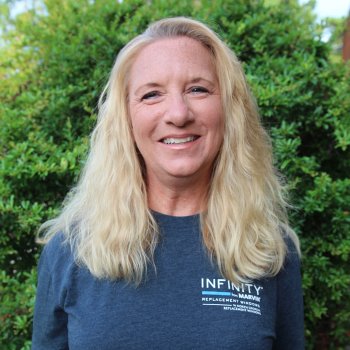 Diane Dinsmore, Administrative Assistant
If you give us a call, Diane is likely the voice you'll hear on the other end. In addition to fielding most of our calls, Diane coordinates and schedules our services. What she loves about NGRW? 'I love that NGRW is truly like one big family. A lot of companies will say that, but it is really true here. It's a place that you can enjoy coming to work every day.' Fun fact about Diane: she enjoys refinishing old furniture and working with her husband together in their shop. Her favorite Bible verse is Jeremiah 29:11.
Email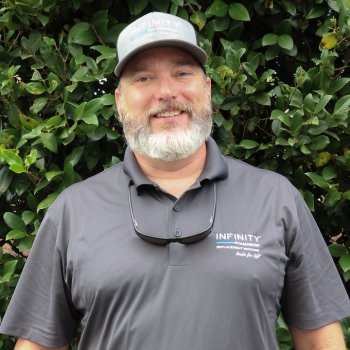 Dave Nelms, Service Technician
Dave handles our services. When he's not at work, this 'blessed family man' is probably spending time with his wife and three kids. Dave also enjoys hunting, fishing and working around his property. What he likes about NGRW? 'The company is always working together as a team to be the best we can be to ultimately achieve the customer's goals and expectations. I like being a part of that team.'
Email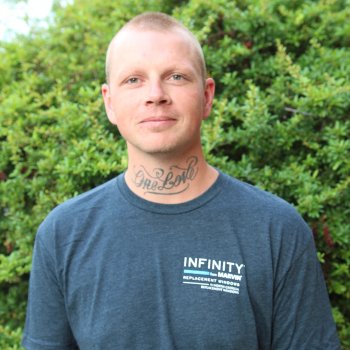 Shawn Chastain, Warehouse Manager
Shawn is our warehouse manager or, as he calls himself by his unofficial title - 'the warehouse guy'. He organizes and oversees our warehouse, including all deliveries and shipments, as well as making sure our installation crews have all the materials and paperwork they need to start each job. One of his favorite parts about working at NGRW is the culture of the company: 'Everyone I work with is a great addition to my life and the workplace. I'm looking forward to the future here at this company as I get to be a part of its growth and witness its influence on my own personal growth.' Shawn enjoys playing sports and strategy games with friends. He also has a passion for worship music, and he tries try to stay involved and active in the local assembly God has called him too. His favorite Bible verse is Colossians 3:23.
Email
Chris Harrison, Accounting
For all things payment or finance-related, you'll most likely talk to Chris. What she likes about working at NGRW: that she learns something new everyday. She also enjoys that we are accepting of each team member's strengths, weaknesses, and ability to produce a good pun! Something you may not know about Chris: she is a transplant from central Illinois and still drinks unsweet tea - GASP! She's been married for 33 years to her husband, Todd, and together them and their two adult kids enjoy family trips to Disney.
Email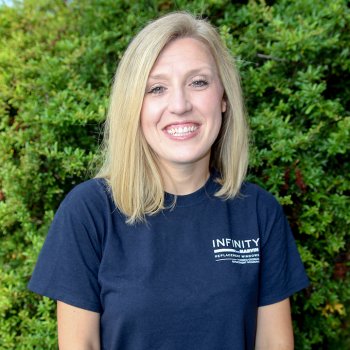 Rebecca Scott, Marketing Manager
Rebecca has been with NGRW since 2008 and works in the marketing department. Why she likes working at NGRW? 'It's been said before, but it does feel like a family here at NGRW. I actually enjoy coming to work, and I know not everyone is fortunate enough to feel that way.' When she's not at the office, she enjoys being involved in her church, spending time with her nieces and nephews, and playing sports or doing outdoor activities. One of her favorite Bible verses is 2 Corinthians 10:5.
Email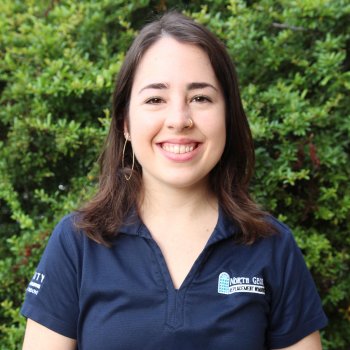 Claire Fitoussi, Marketing Assistant
Claire started with NGRW in 2019 and helps out on the marketing team. Her favorite part about working here? The simple fact that she enjoys coming to work. She doesn't dread the thought of going into the office! Some fun facts about Claire: She's never broken a bone, she loves animals, and loves to dance. One of her favorite Bible verses is Psalm 23:4-6.
Email