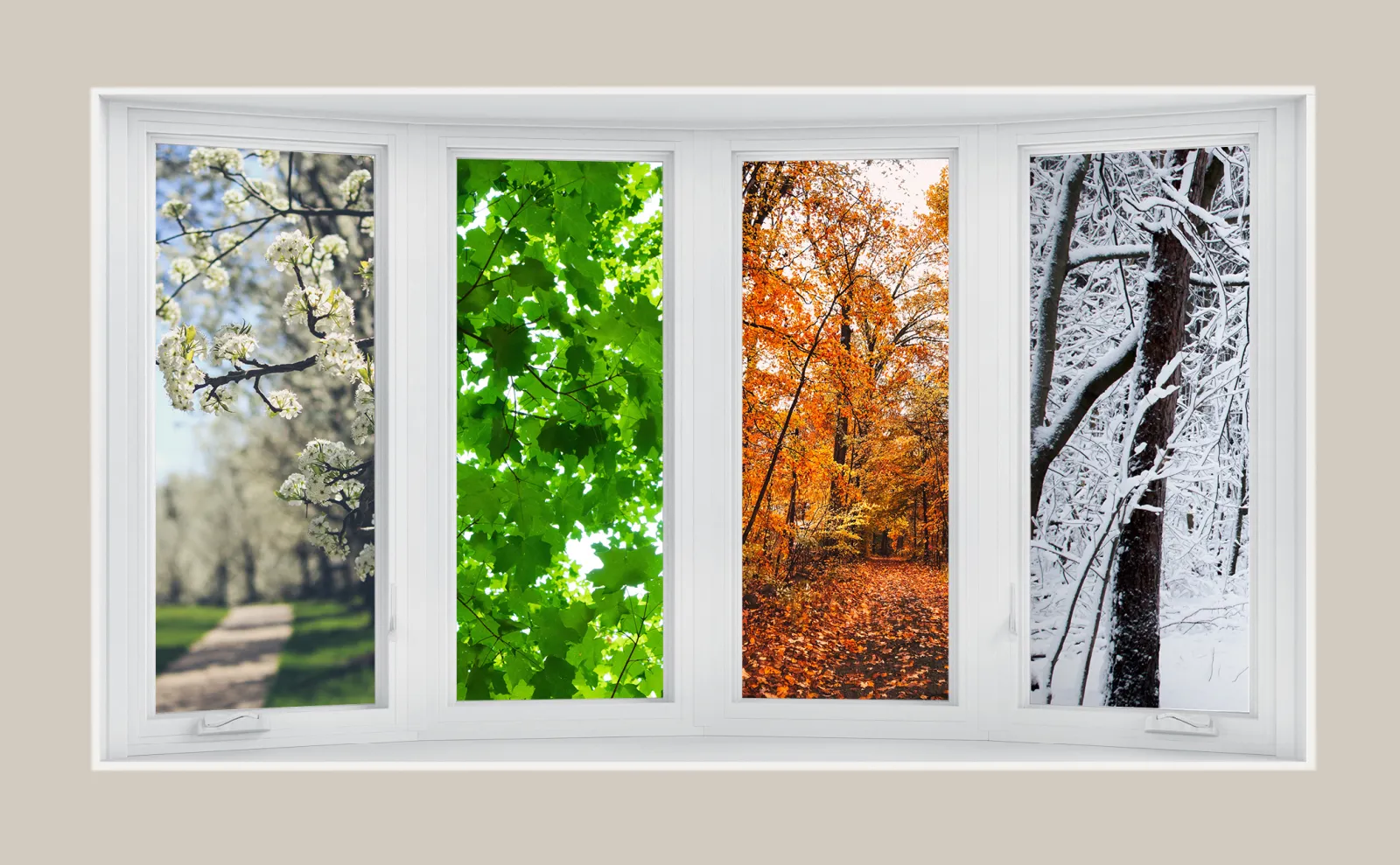 If you're planning on replacing your windows soon, you're likely eager to get started on your home renovation project. However, you may be unsure exactly when you should jump on the new replacement — the summer seems too humid, and the winter is just so cold.
However, we're here to tell you — don't sweat it (literally). North Georgia Replacement Windows can install replacement windows during any season, so you can select a time that is comfortable for you and works best for you and your family's schedule.
Tips for Choosing the Right Season to Schedule Your Window Replacement
While you can replace your windows during any season, there are varying seasonal advantages. Read through the following information to determine which season(s) may be best for your window replacement.
Spring & Summer Window Replacement in Georgia
Here in Georgia, March, April, and May are beautiful! With the nice weather, we typically see an increase in demand for window installations. Why are these months so popular for a window installation?
Because of these great benefits:
Comfortable Weather — If you schedule your project before the humidity sets in, you can enjoy gorgeous weather and fresh breezes while your windows are replaced.
Timely Installation — By installing your windows during the first half of the year, your home will be ready to welcome guests for Thanksgiving and Christmas.
Lower Utility Bills — If you replace your windows while the weather is nice, they will be ready to help you save on energy costs by keeping your home cool in the sweltering late-summer temperatures and warmly insulated in the cold winter months.
Tax Return — If you are planning to get a tax return in the spring, you can use that money to invest in new windows, which can not only help lower your energy bills, but can also improve your home's curb appeal.
Fall & Winter Window Replacement
While we typically see busy fall months, winter brings a somewhat slower pace. As people start to focus more on the holidays and getting ready for guests, window projects tend to be pushed off until the holidays are over. However, both of these seasons have benefits!
As winter starts, window projects tend to slow down. This is good news for those who have their installations in the winter. Why? While our window lead times are the same, our installation lead times are quicker and you can start saving on your energy bills sooner!
However, as you already know, turbulent weather is not as common during the fall or winter in Georgia — aside from hurricane season — so it's not as essential to work around these seasons as in other regions, like New England or the Midwest. Though you may run into storms more often than you would in the spring or summer, delays are still unlikely.
And though it is colder in the winter, the majority of the sealant we use can be applied in temperatures as low as 0°F, which is well below the average temperature that Georgia sees in its milder winters compared to other parts of the county.
These are some of the best benefits of installing your windows during the fall or winter:
Installation Lead Times — Since winter is usually a slower time for home improvement projects, that means you may experience less of a wait to have your windows installed.
Extra Insulation — If you schedule your replacement in the early fall, you can enjoy the additional warmth and insulation your new windows provide during the colder months.
Fewer Pollen — If anyone in your family has seasonal allergies, staying away from a replacement in the spring or summer when everything is in bloom is a wise choice.
North Georgia Replacement Windows: Expertly Trained to Install in Every Season
At North Georgia Replacement Windows, we have an expert team of certified installers trained to install windows in all seasons. In addition to their skilled craftsmanship, they consider these other factors during your installation:
Quick Replacement
While we may work on multiple areas of your home at once, we never leave your home exposed for long periods. We will remove your old windows and prepare for the new ones to be installed, so whatever the temperature is outside — you can rest assured your home is safe.
Weather Flexibility
We don't always work when it's pouring rain or snowing — but colder temperatures in Georgia are not a concern for us. However, we want you to be comfortable, so we are flexible when scheduling your installation to meet your needs and preferences.
Customized Installation
Your window installation is a big investment, and we want it to be as smooth as possible. Our installers will have a game plan on the day of your installation to minimize your family's exposure to colder or warmer weather.
If there is a particular room or location where you would like us to begin your installation — we are happy to accommodate your request!
Get Weatherproof Performance with Infinity from Marvin Fiberglass Windows
Infinity from Marvin® fiberglass replacement windows are built with raw materials designed to minimize expansion and contraction as the seasons change. Infinity from Marvin windows expand and contract eighty seven percent less than vinyl windows, so your windows will not develop gaps and cracks that cause air and water leaks.
If these windows are installed during colder months, they will immediately begin to keep colder air out and heat in. Likewise, during the warmer months, once they are installed, they will immediately begin to keep the heat out and A/C inside — where it belongs.
Schedule Window Replacement with North Georgia Replacement Windows — All Seasons Available!
Whether you decide to replace your Georgia home's windows in the balmy summer or cool winter months, we are ready to help simplify your window-shopping and installation experience. Contact us today to get started on your window replacement!