Whether you're looking to enhance the curb appeal of your home or have been pining away for an unobstructed view of a lake or pretty backyard, a bow window or bay window is an investment that you will enjoy for years to come.
Now the hard part—choosing between a bay or bow window. Here's what you need to know before you decide.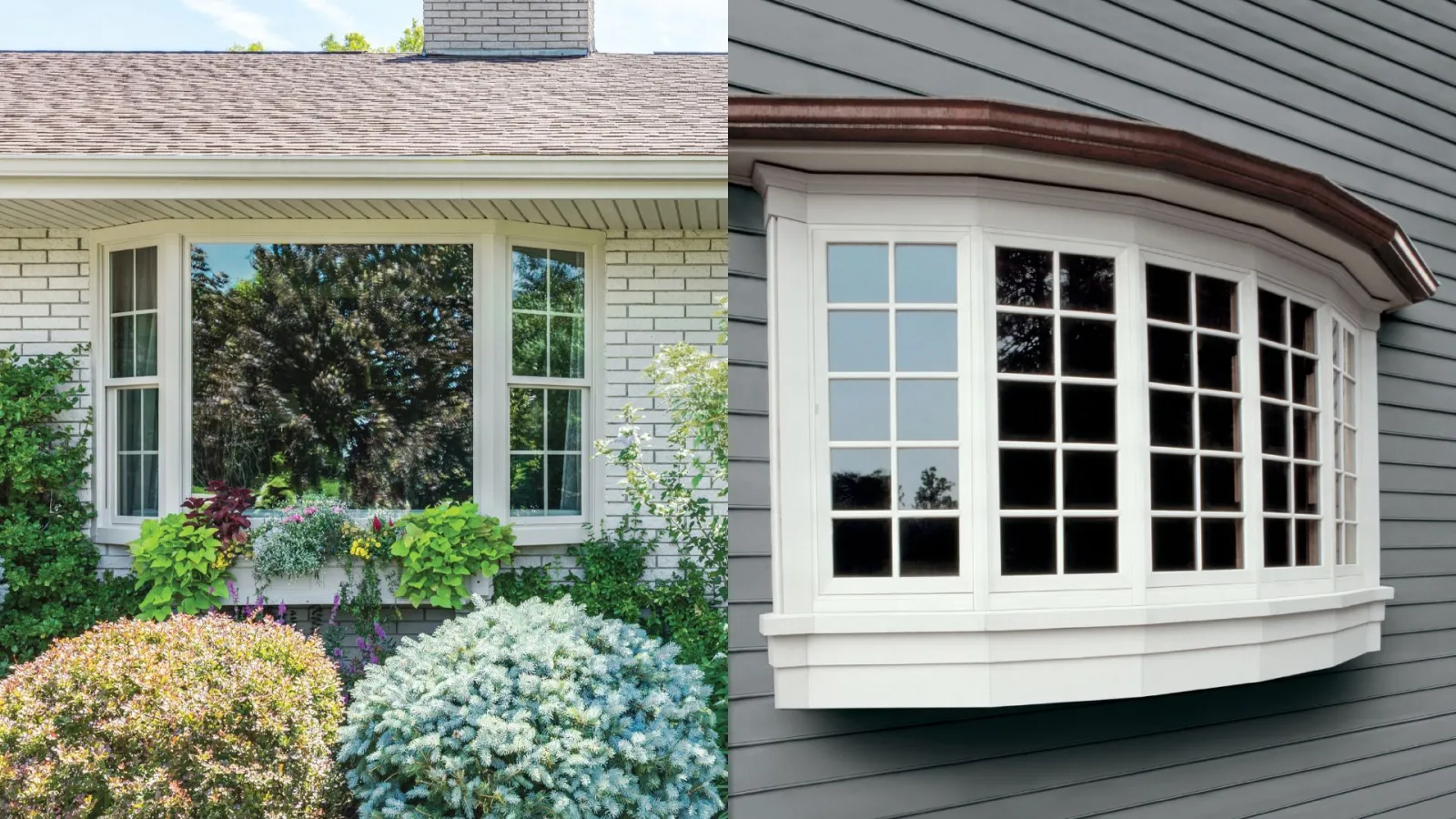 Differences Between Bay and Bow Windows
It's easy to see how bow and bay windows are often confused for one another. After all, they share a similar shape and, because they extend out from the walls of your home, they make your space feel roomier and inviting. So what are the differences, then? Let's break them down so you can decide which type is for you.
What is a bow window?
A bow window is a rounded set of windows that project in an arc shape from the wall. The Infinity from Marvin fiberglass bow windows are available in four, five, or six wide assembly configurations. Bow windows tend to be wider in size and don't protrude outward as much as a bay window. They can be ordered to include fully functioning windows that open and close, fully stationary, or a mix-and-match of operable and stationary windows.
Are bow windows outdated?
Bow windows are still window features that can be added to both new construction, as well as replacement windows. The reason you might not see as many bow windows in comparison to bay windows is that they are typically seen in older built homes, especially in Victorian-style homes. The attractive aesthetic features and stately curbside appeal open up views from your home and expand the visual area of the space.
What is a bay window?
A bay window is an arrangement of windows with three individual window units that extend from the house at various angles. Most commonly, there is a larger central window that is typically stationary with two flanking windows that angle back toward the main wall. These windows usually open and close. Bay windows typically protrude more from the house than bow windows.
Styles of bay windows
The most common style is the classic angled bay window, which protrudes from the house and slants back toward the wall at a 30 or 45-degree angle. This increases floor space and makes this feature more popular in tight areas. In addition to colors, glass types, grid patterns, and hardware options, you can also choose the operational style of all the units in the bay window.
You can choose between double-hung or casement configurations, as well as if you want the center unit stationary or operable. If your style encompasses clean and simple lines, the box bay window may fit the bill. As the name implies, it is shaped like a box, typically rectangular with a flat front and sides that come straight off the house at 90 degrees. Keep in mind bay windows that open are an essential feature in bay window designs if you want more ventilation.
Can you replace a bow window with a bay window?
Whether you can replace a bow window with a bay window largely depends on the existing structure. It's easier and cheaper to put in the same kind of windows into an existing opening.
A wider bay requires a larger opening and a new header. Support is another consideration as bay windows must be supported with decorative braces below the window or with hidden steel cables bolted to the overhead framing. If there is an eave above the window, a bay window is tucked underneath it with trim and insulation. If the window is in the middle of a wall with no eaves, a skirt roof is custom-built to help protect the windows and lend a decorative touch. Whatever size window you decide on, financing options are available to help make your window design dreams come true whether it's a bay or bow window.
Benefits of Both Bay and Bow Windows
Whether you choose a by or bow window for your home, you'll enjoy these incredible benefits:
1. Create Curb Appeal
Homeowners usually want to increase curb appeal with any home renovation. Both bay and bow windows can provide a beautiful focal point to highlight any home's architectural style.
2. Increase a Room's Natural Light
Bay and bow windows have multiple window panes that expand outward from the exterior wall of the home. They both allow plenty of natural light to enter your home from different angles, which helps increase the overall comfort of the room.
3. Make Rooms Look Larger
Smaller rooms can have the illusion of more space simply by adding bay or bow windows. The bay and bow window panes make the room look and feel larger.
4. Gorgeous Views
Many homeowners want to highlight spectacular views or a beautiful backyard. Bay and bow windows are the perfect selection with the additional window panes. You can choose operable window configurations (like double-hung) to enjoy the amazing view.
5. Increase Storage and Seating
There are many creative ways to utilize the oversized angled or semicircular windowsills. You can convert the windowsill into a cozy reading area. You can also place a small table nearby and turn it into a breakfast nook.
Beautify your Georgia Home with a Bay or Bow Window from North Georgia Replacement Windows
It can be challenging to find a replacement window that creates curb appeal with the added space and natural light. Bay and bow windows offer all of these benefits possible for Georgia homeowners. North Georgia Replacement Windows will guide you to the perfect window for your home.
For more information on bay and bow windows or to learn how you can start your replacement window project, contact us today to request a proposal.