A Comprehensive Guide to Different Types of Windows for Your Home
Are you feeling excited to be selecting replacement windows for your home? If so, you might also be overwhelmed at first by all the choices—including which window style to choose. Despite all of your options, we can help you select a window style that will meet your needs for aesthetic appeal, efficiency, and functionality!
In this guide, you'll find a comprehensive overview of the benefits and features of popular window styles, including casement, bay, picture, awning, and double hung windows, to help you make an informed decision based on your unique needs.
Guide Chapters
Casement Windows: Versatile and Energy-Efficient Choices
Casement windows, also called crank windows, are hinged on one side. They swing outward (either to the left or the right) with a handle that slowly cranks the window open.
Casement windows are easy to open and close in hard-to-reach places. Homeowners looking to install a sizable window in a difficult-to-reach spot, like behind a couch or above a kitchen sink, will likely enjoy the convenience of a crank window.

Benefits of Casement Windows
Tight Seal — When cranked shut, casement windows have a tight seal, making them more efficient and secure than other window styles with sliding mechanisms, such as double hung or sliding windows. This will help increase your energy efficiency and can even help save on your utility bills!

Unobstructed Views — Casement windows don't include any sashes or sliding mechanisms, allowing you to enjoy panoramic views of the gorgeous scenery outside your home through clear, unobstructed panes of glass.

Refreshing Ventilation — When opening a casement window, you can swing the entire windowpane out, allowing more fresh breezes inside your home.
Ideal Placement for Casement Windows
Casement windows are well-suited for rooms that would benefit from extra ventilation, abundant natural light, and picturesque views. They're a popular choice for living rooms, kitchens, and primary bedrooms since homeowners spend a lot of time in these spaces.
It's important to note that casement windows swing outward when opened. If your window placement interferes with trees, shrubs, or other items such as patio furniture, installing a sliding window instead might be better since these are easier to operate in tight spaces.
Maintenance Tips for Casement Windows
Keep your casement windows spotless with a glass cleaner and a lint-free cloth to maintain your beautiful views. Most modern casement windows have a hinge that allows you to open the pane wide enough to wash both the inside and outside of the glass from inside your home—making cleaning a breeze.
For a quick video on how to operate and clean the Infinity from Marvin casement, click here.
Double Hung Windows: Classic Style with Modern Functionality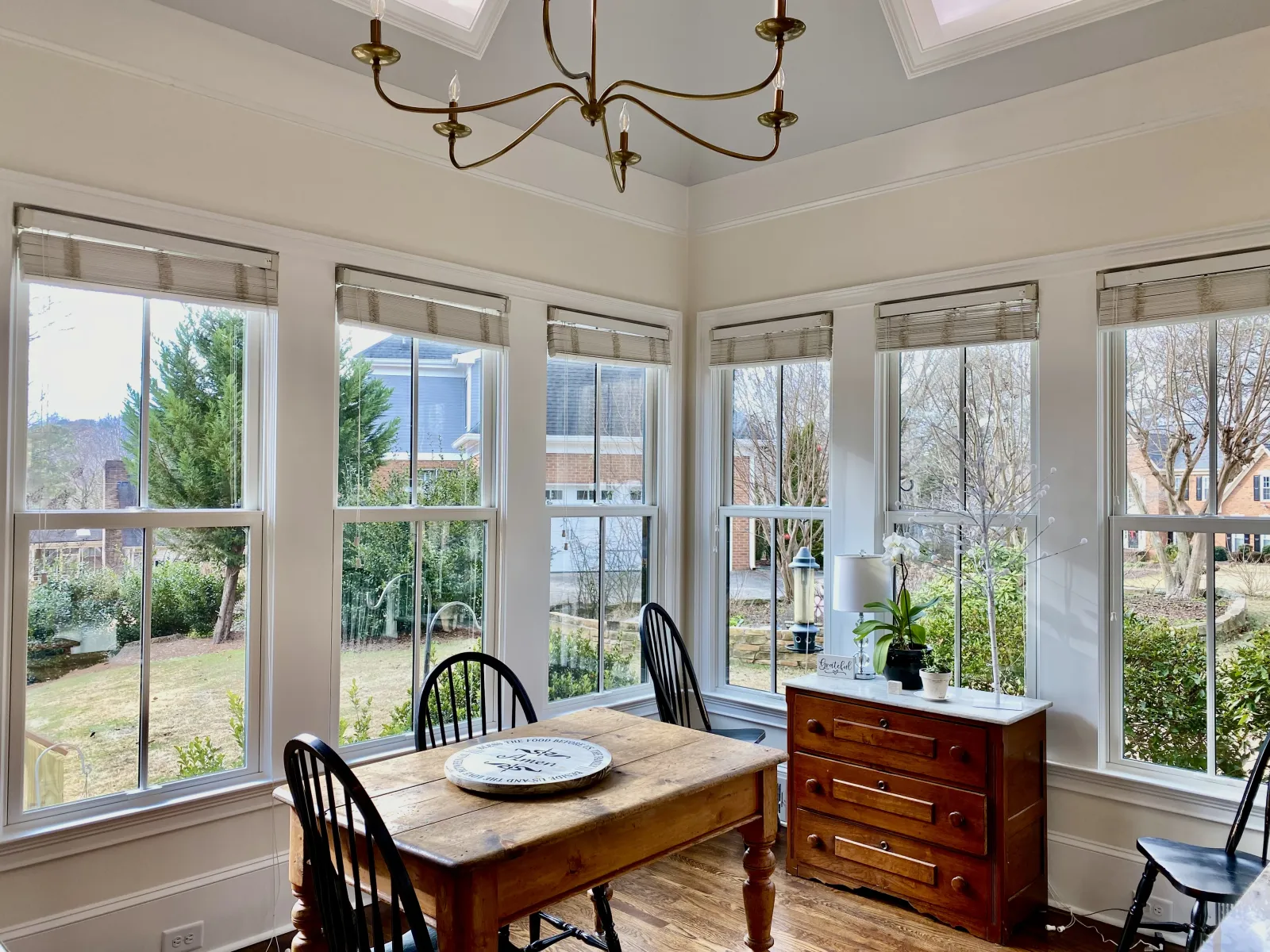 Double hung windows feature two operable sashes that slide up and down. The top and bottom sashes can be opened separately or simultaneously to offer your home refreshing ventilation.
Double hung windows look and operate like traditional single hung windows, but instead of having one operable bottom sash that slides up and down, these windows have two moving sashes. They also offer more versatility, customizability, and ease of maintenance than single-hung windows—making them a popular choice for the modern homeowner.
Advantages of Double Hung Windows
Effortless Upkeep — Most modern double hung windows offer a convenient tilt-in feature that allows you to clean both the interior and exterior of both sashes from inside your home, making maintenance a breeze.

Adjustable Ventilation — Since heat rises, opening a double hung window's top and bottom sashes improves your home's comfort levels. While hot air escapes from the top, cool air can filter in through the bottom.

Classic Versatility — Double hung windows still offer traditional appeal, but they're available in many colors, styles, and capabilities—making them ideal for modern homeowners who want to preserve the charm of their historic homes without sacrificing the functionality of their windows.
Perfect Placement for Double Hung Windows
Double hung windows look great in bedrooms and living rooms. They're also popularly installed in rooms on the second floor of a two-story home. This is because double hung windows allow hot air to escape through the top sash—keeping otherwise stuffy rooms cool—and they're easy to clean from the inside, so you won't need a ladder to reach the exterior of the windows.
Double hung windows may be less efficient and experience more wear and tear due to all the moving parts. To combat this concern, look for double hung windows with high durability and energy efficiency ratings, like the Infinity from Marvin fiberglass double hung windows.
How to Care for Double Hung Windows
Double hung windows are easy to operate and maintain. We recommend cleaning double hung windows twice annually (once in the fall and again in the spring) with a non-abrasive solution, sponge, lint-free cloth, and bucket of water. Remember to polish the hardware and dust off the frames after cleaning the glass panes.
And the best part? Tilt-in sashes allow you to clean both sides of your double hung windows from inside your house—making cleaning a quick task rather than a dreaded chore.
Slider Windows: Practical & Attractive
Slider windows, also known as sliding windows or sliding glass windows, are a type of window design commonly used in homes. They are named for their operation, which involves sliding one or more panels horizontally to open and close the window.
Why You'll Love Slider Windows
Easy to Operate: They are often easier to open and close than some other window types, especially for those who may have difficulty lifting or pushing windows open.

Space-Saving: Slider windows offer a space-conscious solution, making them ideal for areas where traditional outward-opening windows might not fit, such as narrow hallways or locations with restricted clearance outside.
Versatility: Slider windows offer a range of configuration options, accommodating one or both sashes for operation. When both sashes are mobile, they can be specially crafted to glide alongside one another, providing effortless airflow and creating a spacious opening.

Best Places for Slider Windows
Here are some ideal spots for sliding windows in your home:
Living Room: Perfect for embracing natural light and scenic views.

Kitchen: Ideal above countertops for easy indoor-outdoor access.

Bedrooms: Great for smaller rooms, offering ventilation and light.

Bathrooms: Positioned higher for privacy, while maintaining airflow and light.

Basements: Brighten up the space and provide an emergency exit option.

Sunrooms/Porches: Transform outdoor spaces into sheltered havens.


Caring for Your Slider Windows
Our sliders feature ergonomically designed handles that are within easy reach and a breeze to use. They effortlessly glide open, and their tilt-in capability allows for convenient cleaning from the comfort and safety of your home!
Bay Windows: Creating Space and Architectural Interest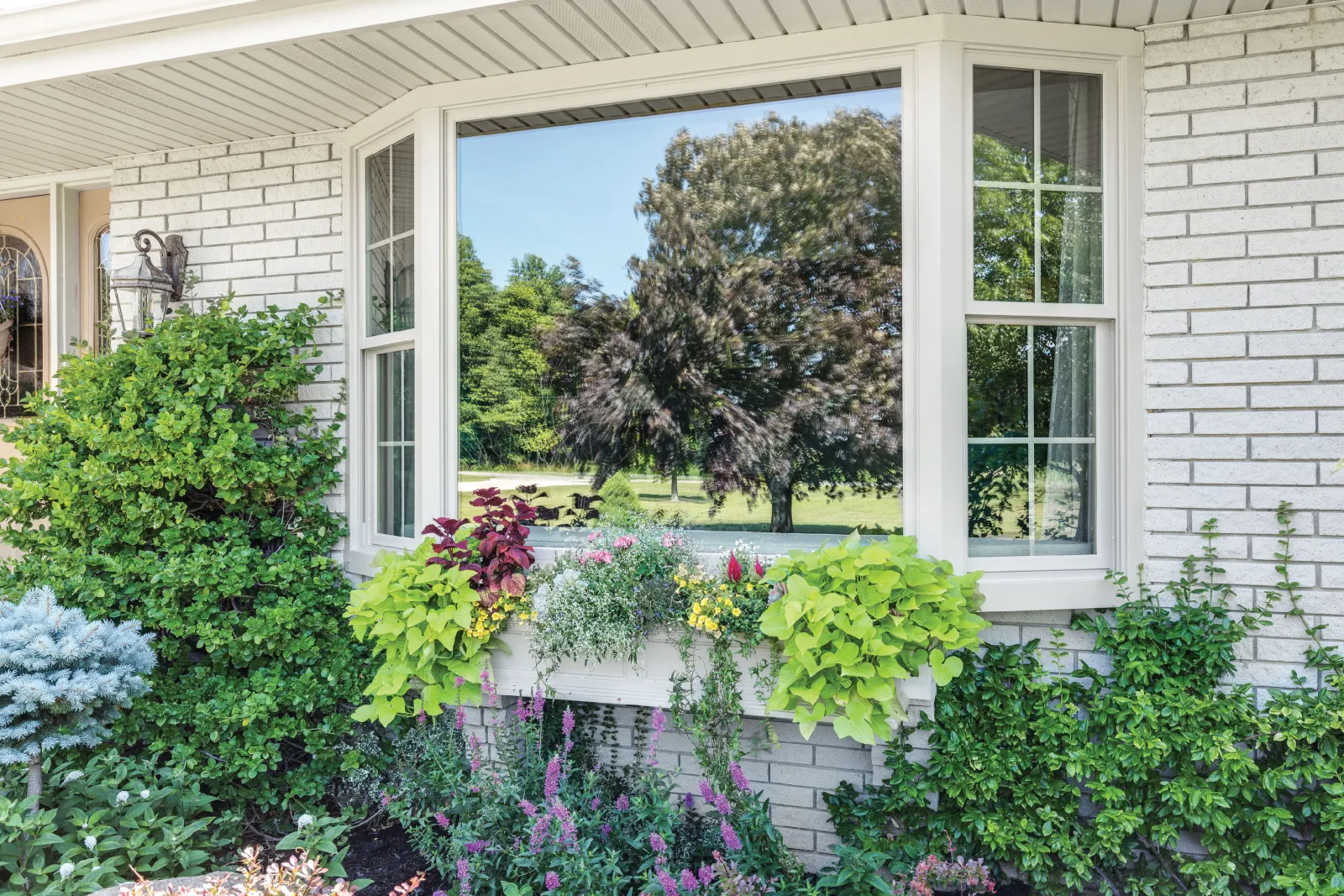 Bay windows are three-sectioned window systems that protrude outwards at an angle to create architectural appeal from the exterior while adding square footage inside. Generally, the larger center window is fixed, and the smaller windows on each side are operable.
Bay and bow windows are both traditional options for large, eye-catching windows. While these styles have a lot in common—they can improve a room's natural light, add curb appeal, and provide gorgeous views—bay windows are generally found in modern homes, while bow windows were popular in historic homes.

Benefits of Bay Windows

Bonus Space — The additional room created by a protruding bay window is perfect for creating a cozy reading alcove, a breakfast nook, a window seat, or a well-lit desk.

Natural Light — A bay window is really three windows in one, which means it will offer triple the amount of natural light. And since the windows are angled, you'll catch sunlight at different times of the day, illuminating your home with a continual golden glow.

Optional Ventilation — Unlike most large windows, the windows on each side of this system are typically operable and can circulate fresh air.
Considerations to Make Before Installing a Bay Window

Bay windows are a beautiful addition to primary bedrooms, living rooms, kitchens, or any larger room that you'd like to illuminate with natural light while adding some extra square footage with a small, cozy nook.
However, you must consider a few factors before installing a bay window. Do you have enough wall space to install this window style? Which durable material will also support seating and storage? Which operable windows would you like on each side—double hung or casement windows? Our Design Consultants can guide you through all these questions to help you make the right decision for your home.
Decorating & Maintenance Ideas for Bay Windows

Bay windows offer a blank canvas for unlimited customization, making decorating bay windows as fun as installing them! Add divided lites (grids) to match your home's architectural style and select beautiful hardware to accentuate nearby light fixtures. Finish off the look by installing curtains, shutters, or blinds to control the lighting and privacy, or add decorative cushions on the ledge to create a comfortable window seat.
Keep your bay windows looking good as new by
cleaning the glass and frames
several times throughout the year. If the window is operable, periodically check the sashes, locks, and hinges to ensure they're working properly.
Picture Windows: Showcasing Panoramic Views and Natural Light
Picture windows are large, fixed windows that generally include one pane of glass. These modern windows are often installed in living rooms, dining rooms, and other spaces that offer scenic views to create aesthetic appeal and allow large amounts of light inside your home.
Picture windows can also be combined with operable windows—such as casement windows—to provide the option for fresh air and ventilation.

Advantages of Picture Windows
Picturesque Views — There are no sashes, hardware, or mechanical pieces on picture windows. It's easy to enjoy lovely views of your backyard, patio, or landscape through the massive pane of unobstructed glass.

Reliable Insulation — Picture windows are inoperable and tightly sealed around the edges, creating an energy efficient unit and helping eliminate uncomfortable drafts.

Maximum Sunlight — Picture windows are often larger than other window styles and invite abundant natural light inside, reducing your reliance on artificial lights and, even better, helping lower your electricity bills.
What to Think About Before Installing Picture Windows
Picture windows offer homeowners multiple benefits, including natural light, exceptional efficiency, and low-maintenance upkeep. However, before installing this popular window style, there are a few critical factors to consider about picture windows.
Picture windows are large, making them susceptible to breakage and solar heat transmission. To combat these potential problems, consider upgrading to laminated glass and choose a glass with a low U-factor, and a low Solar Heat Gain Coefficient. And since picture windows are inoperable, consider installing operable windows nearby to provide the option for ventilation.
Cleaning Tips for Picture Windows
Picture windows are super simple to clean. These windows don't move, have screens, or contain difficult-to-reach nooks and crannies, so you only need to use an approved glass cleaner and rag to polish the glass and another rag to dust off the frames— that's it!
Since these windows don't open, you will need to clean the exterior from the outside. However, it's just as easy to clean the outer surface of the windows, so it shouldn't take long to get the glass sparkling clean.

Awning Windows: Fresh Air and Weather Protection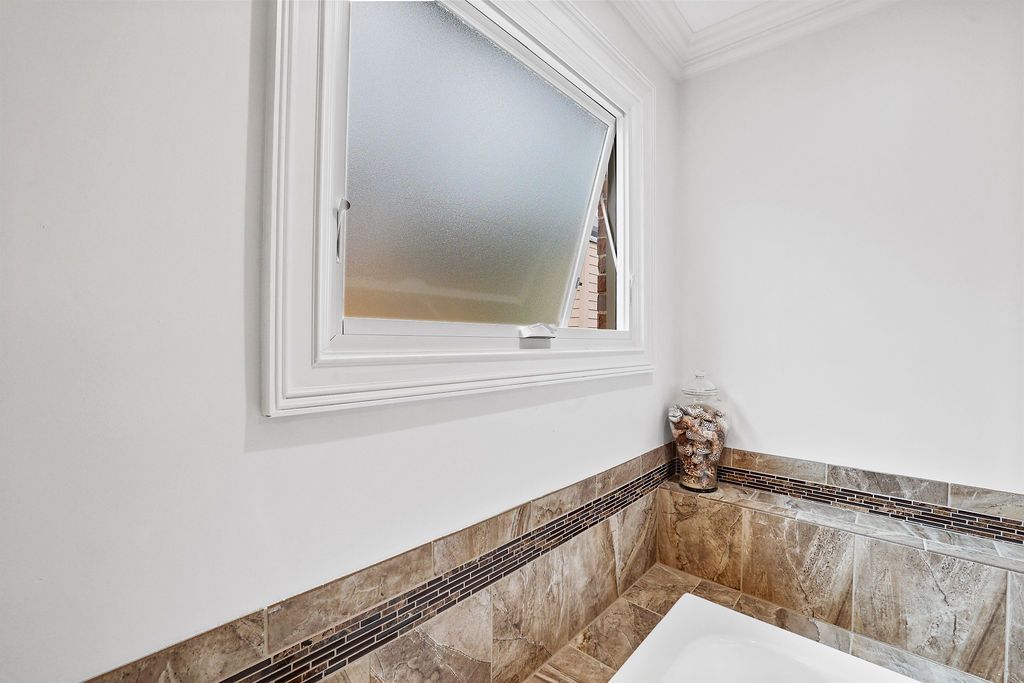 Awning windows are hinged at the top of the frame and open outward. They create a modern look popular with contemporary homes, so they're often used in tangent with other sleek designs, like casement and picture windows.
Awning windows are truly unique. Unlike other window styles that slide, crank, or stay in place, awning windows "vent" outward to offer refreshing ventilation and other unique benefits, like weather protection and easy access in tough-to-reach spots.

Benefits of Awning Windows
Ventilation and Efficiency — Awning windows can be vented in hard-to-reach or humid places to keep your home cool, but when closed, the sash seals tightly against the frame, keeping uncomfortable drafts outside.

Compact Design — Awning windows are small enough to fit in tight spaces, like above a front door or inside of a shower. They are easy to operate even with high placement, making them a great option to provide light and ventilation in high-up locations.
Awning Window Placement Inspiration
Awning windows are one of the few window styles you can install in hard-to-reach places. They're often placed above front doors, in bathrooms or basements, or in other rooms with areas that would benefit from natural light while maintaining privacy with a higher window.
Awning windows are also ideal in spaces that need extra ventilation, like above the cooktop or in a shower. These windows are small enough and can be strategically placed so that they can remain open continually to let out "hot steam" without risking your home's security.
Maintenance Tips for Awning Windows
Since awning windows are often situated in hard-to-reach places, they may not be quite as easy to clean as casement or double hung windows. Unfortunately, they don't have easy wash hinges like casements, so you'll have to go on the outside of your home to clean the exterior glass.
Enhance Your Home with the Perfect Windows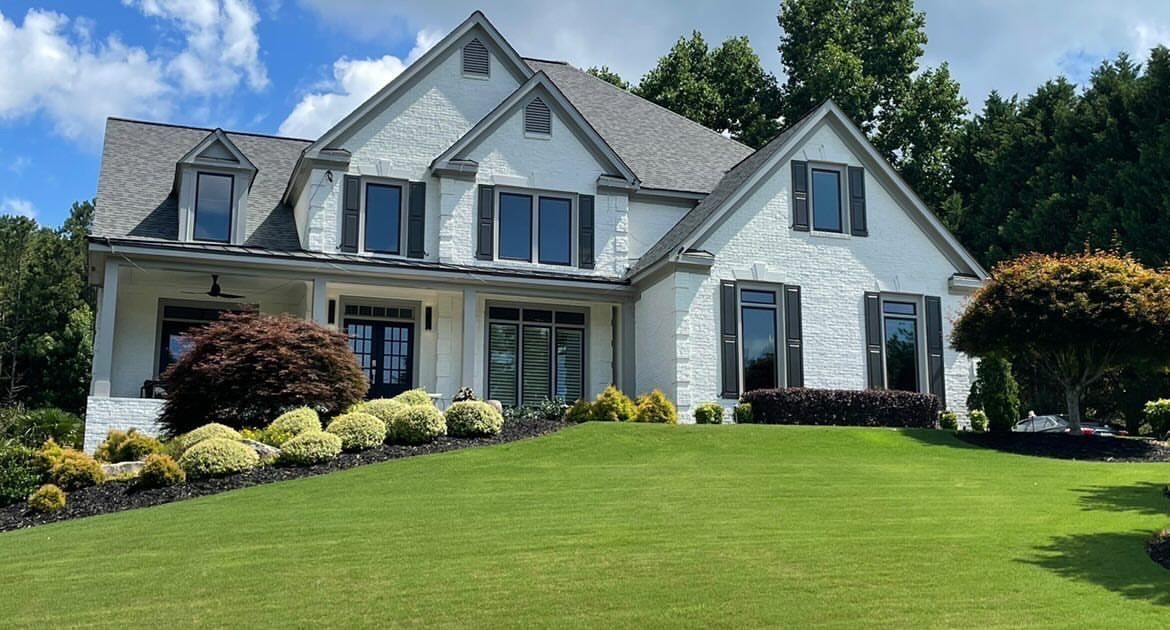 Let us know if this guide has sparked some questions about window installation or has made you eager to update your home with beautiful new windows. North Georgia Replacement Windows is the preferred Infinity from Marvin window installer in Georgia, and we expertly install all the window styles listed in this guide (and more!).
Explore all the window styles, materials, and colors we offer, and if you have questions in the meantime, please don't hesitate to contact us.
Further Reading