Patio doors are an excellent investment—they provide easy access to your backyard and bring beautiful outdoor breezes and sunshine inside.
When choosing a patio door, we understand how important it is to ensure the door's color, hardware, and features perfectly match your Georgia home. That's why we're proud to install four styles of high-quality fiberglass replacement doors made by Infinity from Marvin.
Discover how you can experience low-maintenance upkeep, lasting durability, and smooth operation from your patio door after installing one of the following attractive options.
Infinity from Marvin: Versatile Patio Door Styles for Your Georgia Home
1. Inswing French Door
Mimic the timeless look of traditional French doors while maximizing your home's outdoor spaces with the Infinity Inswing French Door.
Choose from one-panel, two-panel, or three-panel configurations that effortlessly open into your home for a wide-open view of your backyard. Plus, this door comes with a stainless steel, multi-point locking system to keep your home safe and sound.
2. Sliding French Door
The Infinity Sliding French Door offers the traditional wider profile of a classic French door. It's space-saving sliding operation does not interfere with your home's furniture, allowing you ease to walk out to a patio or deck.
Choose from versatile door configurations, like the two-panel, three-panel, and four-panel units to complement your home's patio. Additionally, you can rest assured that your home is protected with this door's multi-point locking system and optional foot bolt.
3. Sliding Patio Door
With a more narrow profile than the Sliding French Door, you'll love how this door's sleek profile and large glass panels bring in more daylight and bigger views into your home.
This patio door comes with enhanced security features, like the multi-point locking system and optional foot bolt, and a top-hung screen that glides easily for stress-free operation. You can select the perfect size and configuration for your door from the following options: two-panel, three-panel and four-panel units.
4. Bi-Fold Door
The Infinity Bi-Fold Door comes in a variety of styles and configurations you can mix and match to offer your home the perfect combination of fresh air and scenic views. Its narrow profiles fill your home with more daylight and bigger views, allowing you to blend your outdoor and indoor living spaces.
Select either a bi-parting bi-fold door that opens and closes from the center for symmetrical separation or a uni-directional bi-fold door that stacks to one side, either the right or left, for an expansive view. You can also include an access panel in your uni-directional bi-fold door for easy everyday use.
Infinity from Marvin by North Georgia Replacement Windows can install this stackable, carefully engineered top-hung door with up to seven panels. Like the other doors on this list, it comes with a multi-point locking system for your safety.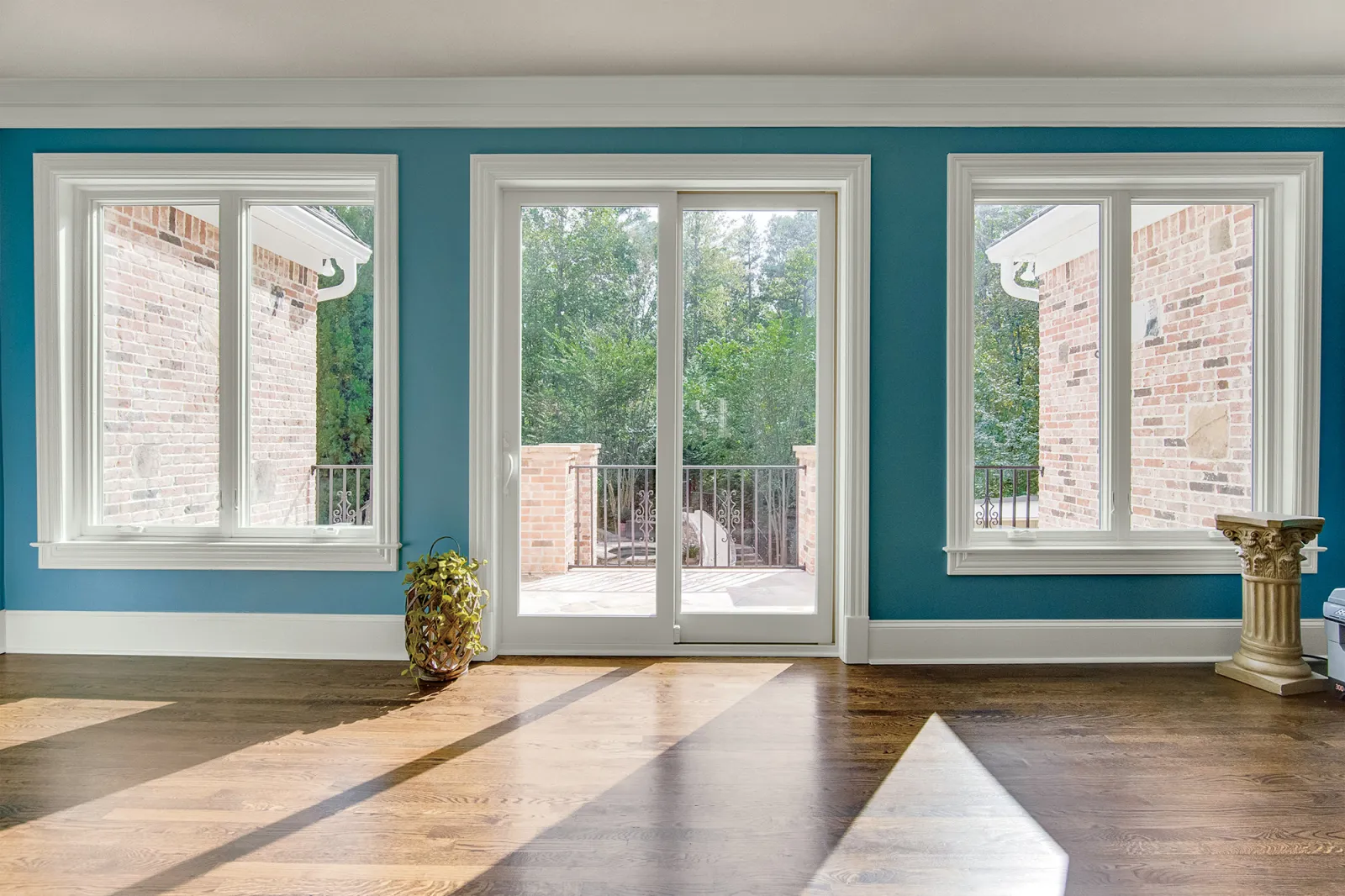 Customizable Options for Your Infinity Patio Door
You can select from the following options to customize your project, regardless of the type of patio door you decide to install.
Finishes
Infinity from Marvin's proprietary acrylic finish - Ultrex® fiberglass - protects the exterior of your doors from weather, wind, and fading. You can choose to apply the same acrylic finish on the interior, or you can select a stainable engineered wood grain finish to match your home's décor.
Choose from the following finishes, which can be mixed and matched to create solid color windows or split colored windows on the interior and exterior of your home:
Stone White interior and exterior
Sierra interior and exterior
Cashmere exterior
Pebble Gray exterior
Bronze interior and exterior
Bahama Brown exterior
Ebony interior and exterior
EverWood® interior
Glass
Performance Glass—Regulate solar heat gain and radiant heat transfer with Low E glass panels that complement your climate.
Specialty Glass— Manage safety, impact resistance, and noise control with high-performance glass options, including tempered glass, laminated glass, and STC/OITC glass.
Decorative Glass—Maximize style and privacy with obscure, glue chip, and frosted glass styles.
Hardware
Add the perfect finishing touch to your door with the following hardware options from the Cambridge and Northfield Handle Collections:
White
Sierra
Satin Taupe
Satin Nickel
Brushed Chrome
Brass
Antique Brass
Oil-Rubbed Bronze
Matte Black
Choose North Georgia Replacement Windows for Your Patio Door Installation
Once you've narrowed down the perfect type of patio door for your home, allow our experienced, local team at Infinity from Marvin by North Georgia Replacement Windows to help with your installation.
You can browse our selection of Infinity from Marvin patio doors, and other types of doors, for more inspiration for your upcoming installation!