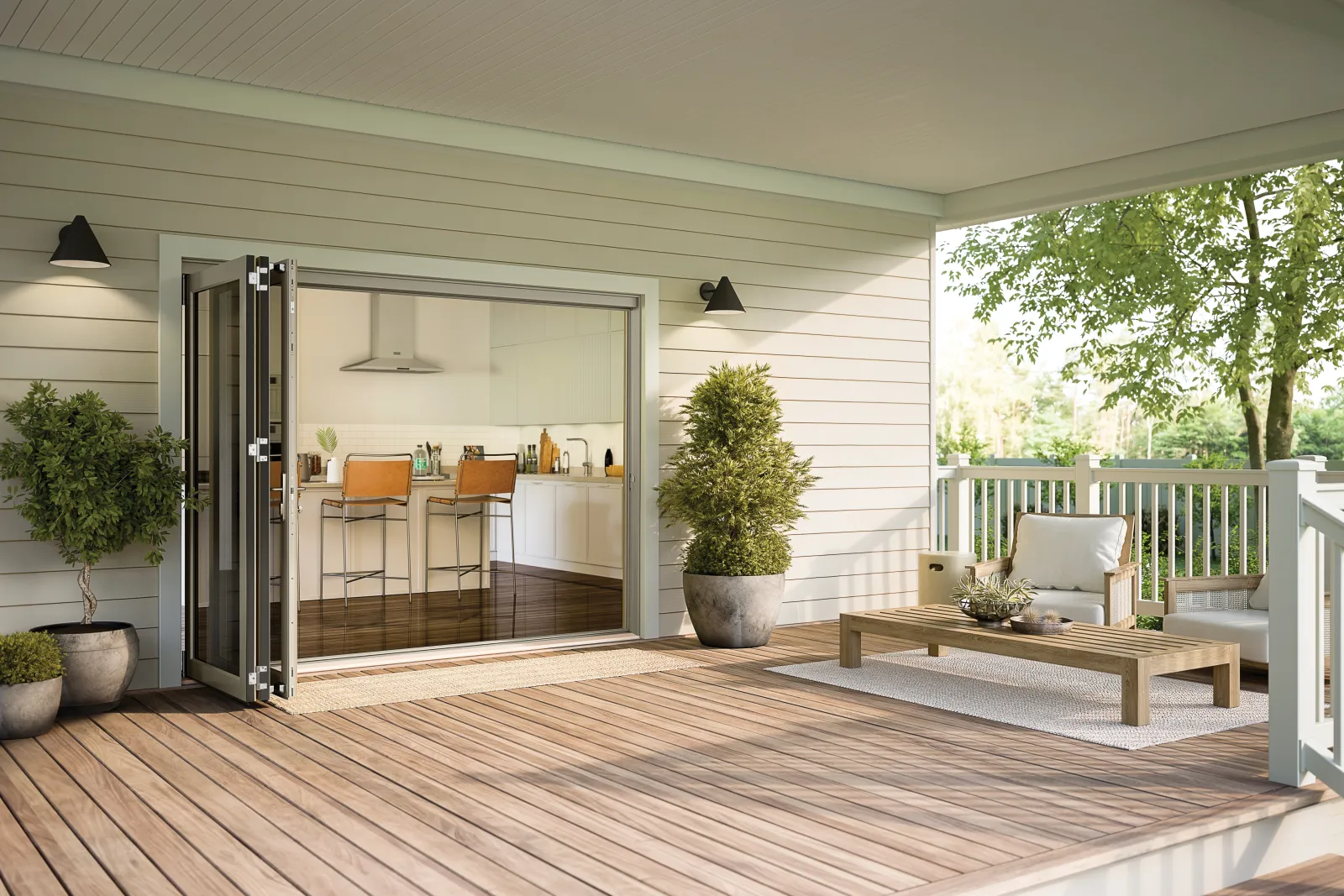 We are excited to announce that we will now be offering Infinity from Marvin bi-folding doors!
With the weather changing and bringing warmer temperatures, more people are wanting to be outside. One way to do that is with a biophilic design, which you can learn more in a previous blog about bringing the outdoors into your home.
Unfold new possibilities
Comfortably enjoy indoor/outdoor living with the Infinity Bi-Fold Door. This exterior door features panels that slide and stack tightly, creating a wide opening in and out of your home. The panels are weathertight when completely closed, giving your home another layer of protection from the elements. Our bi-fold door is designed with narrow frame profiles to maximize your views and fill your home with light. With three bi-fold door styles and up to 7 panels, you can find the perfect fit for your home. Only Infinity's Bi-Fold Door is built with Ultrex® fiberglass on the exterior and the interior for virtually no-maintenance performance.

Reimagine how you live and entertain with Infinity from Marvin's Bi-Fold Door. Effortlessly slide and stack the door open to frame your own scenic view and allow maximum airflow into your home. When completely closed, the Infinity Bi-Fold Door is designed with narrow profiles to fill your home with light.

Bi-fold door configurations
Choose a bi-parting bi-fold door to open from the center to symmetrically frame your view or select a uni-directional bi-fold door to stack panels completely to one side for a wide-open view (available in left or right operation). You can also add an access panel to quickly transition outside.

Bi-fold features
• Carefully engineered top-hung design for fingertip operation
• Configurations up to 7 panels and 22-feet wide
• Performance sill available in beige or bronze
• Multi-point locking system

Bi-fold hardware
The door panels have a hidden locking system for a cleaner look. Easily rotate the interior twin bolt handle up 180 degrees to unlock and open the door and then rotate down to lock and secure. Magnetic door catches come together to protect the panels when open.
Bi-fold screen
Infinity's Bi-Fold Door uses a pleated fabric screen that slides open and can be positioned as desired. Bi-parting and uni-directional options are available depending on your configuration. The screen tightly folds into the door jamb when not in use which provides you with an uninterrupted view outside.
For more information and to schedule a free consultation, contact us today at 770-888-1604!