When you're window shopping, you are on the lookout for not only something that looks nice, but a window that can last for many years. Many homeowners have turned to fiberglass windows. See why this strong, durable frame material makes this window a top choice among Georgia homeowners.
How Do Fiberglass Windows Compare to Other Materials?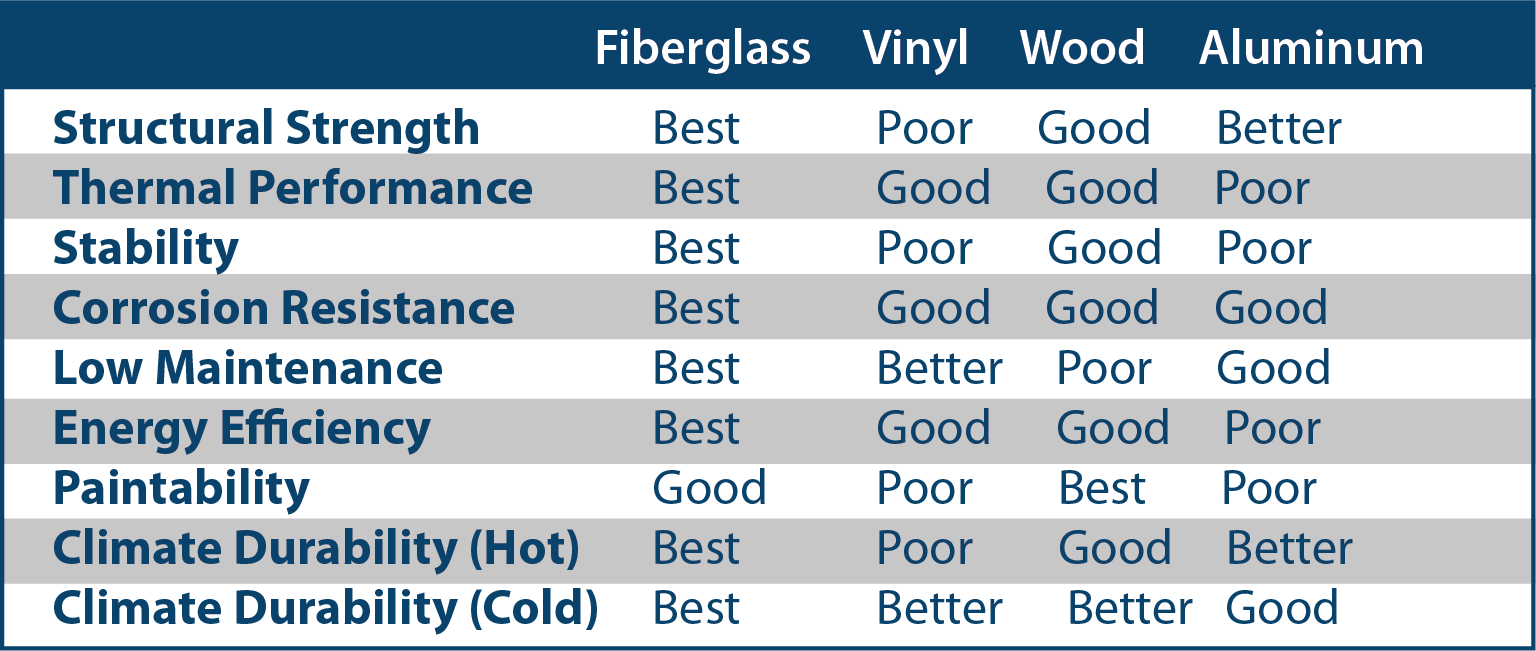 From the first window that was simply a hole to let out smoke, craftsmen have worked to create the perfect window. Early efforts made from wood looked great, but these nice-looking windows could not handle Georgia's hot and humid climate.
When vinyl windows were introduced, they would not rot; however there are still many issues with vinyl windows like unsightly aesthetics, structural problems due to expansion and contraction, seal failure, and more.
Metal windows are another option; however, it's not a wise choice because of the lack of energy efficiency and condensation problems. And although many other window products have come along combining multiple frame materials like aluminum-clad wood or other composites, unfortunately, these windows are also made of materials that will eventually fail.
However, fiberglass replacement windows are an option that is growing in popularity. Our Infinity from Marvin fiberglass window was designed by a veteran wood window architect, so it looks like a traditional wood window without all of the negative properties like maintenance and thermal expansion.
If you are unfamiliar with the characteristics of this up-and-coming material, here are some benefits of fiberglass replacement windows: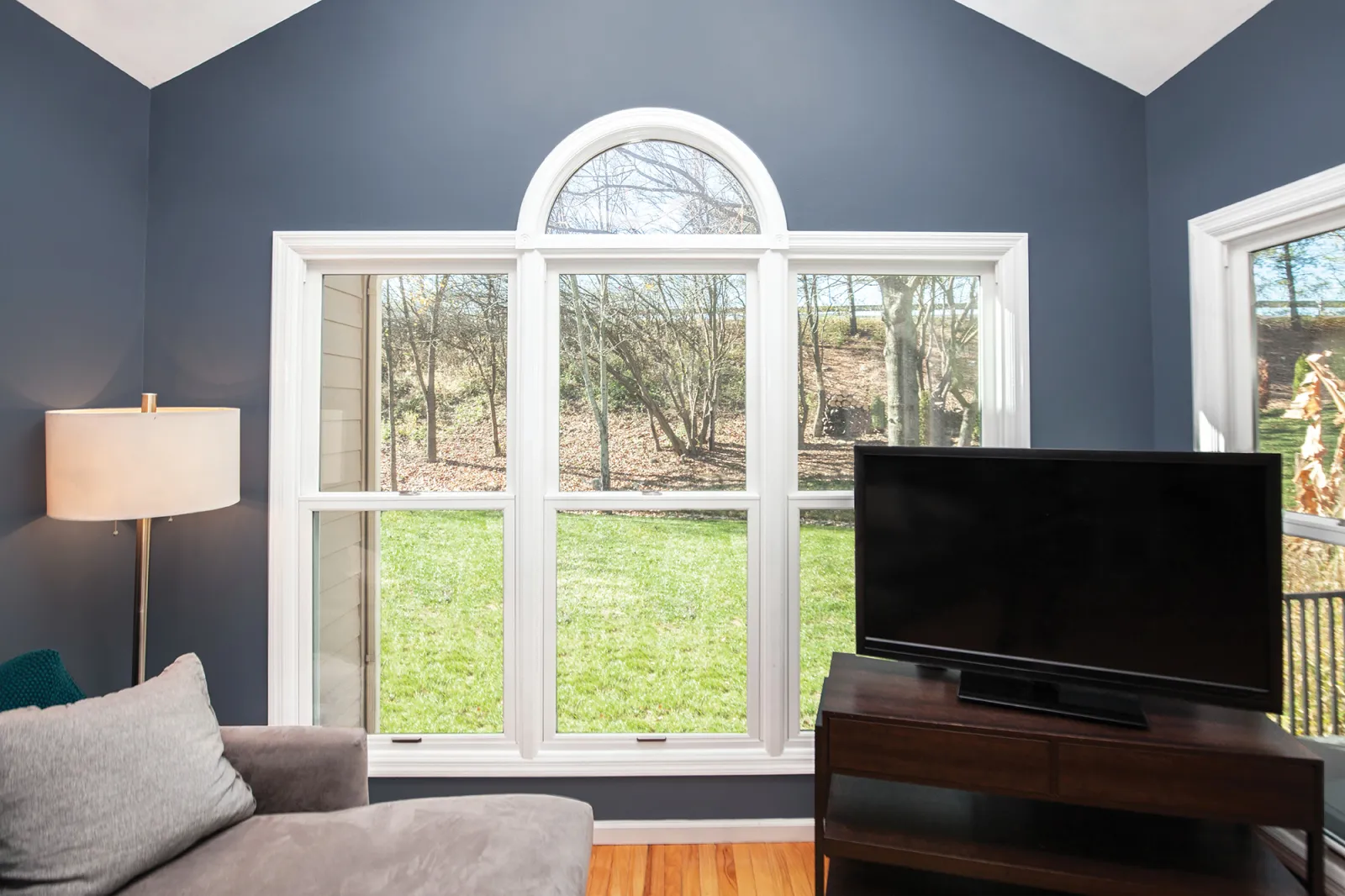 Benefits of Fiberglass Windows
Durability
Fiberglass is resistant to hot and cold temperature swings; so, fiberglass replacement windows are suitable for any climate. The material is less likely to expand, shrink, crack, warp, fade, peel, sag or rot. Additionally, fiberglass is low-maintenance, and its integrity can be preserved for years on end.
Energy Efficiency
As you may already know in the context of your home's attic, fiberglass is a substance that insulates a space. So, in contrast to other window types, fiberglass windows do not require a thermal barrier (e.g. polyamide strips). Also, because Ultrex fiberglass expands and contracts at nearly the same rate as glass, you get a tight, snug fit that will last. Overall, Infinity fiberglass replacement windows can reduce your utility bills.
Environmental Friendliness
First, fiberglass is constructed of silica sand, a sustainable resource that is already abundant. Second, fiberglass's longevity means it doesn't have to be replaced as often. Less waste means less negative impact on the environment!
Aesthetically Pleasing
Fiberglass can be made to look like high-end wood windows by mimicking wood grain on the window's interior and matching its exterior color to the outside of the house. Although fiberglass windows can be painted, it is not required.
Fiberglass replacement windows are versatile and come in many styles such as awning, casement, double-hung, and more. The price of fiberglass windows is moderate, costing more than vinyl but less than wood. However, when considering how much you can save on maintenance and utility bills, there are multiple factors to consider when choosing the best window. Ultimately, Infinity fiberglass is a worthwhile investment in terms of strength, endurance and appearance.
Learn more about your fiberglass window options in our "Replacement Window Buyer's Guide."
Enhance the Beauty of Your Home with Fiberglass Windows from North Georgia Replacement Windows
We are proud to be the only authorized Infinity from Marvin window contractor in Georgia. The window is custom ordered and installed by North Georgia Replacement Windows and comes with a limited lifetime product warranty and a lifetime service warranty. Replacing your windows is a decision we only want you to make once, which is why we offer Infinity fiberglass windows.
To increase the resale value of your home with fiberglass replacement windows, call on North Georgia Windows to install them for you. Our expert window installation team will ensure that your home receives the best-looking windows at the right price. Contact us today to request a free proposal.