Do you love the rich, classic appearance of wood windows? If so, you're not the only one who feels this way about this timeless material!
Wood windows are beloved by homeowners for their warmth, aesthetic appeal, undeniable style, and excellent insulating qualities. But despite their gorgeous appearance, wood windows have their fair share of downsides that deter just as many homeowners from investing in them.
However, Infinity from Marvin®—our only window brand at North Georgia Replacement Windows—has created a replacement window solution with all the benefits (and none of the disadvantages!) of traditional wood windows we think you'll love, called EverWood®.
Real Wood Windows: What You Can Expect
Wood is beautiful, but if you have wood windows, you know how challenging and time-consuming they are to maintain. These are some of the most common problems with wood:
Moisture damage—Wood is prone to swelling, rotting, warping, and discoloring when exposed to rain, snow, and humidity. This damage can make your windows difficult to open and close, creating safety hazards for you and your family.
Pest infestation—Termites, woodpeckers, carpenter bees, and other pesky critters love wood, so natural wood windows are prone to costly pest damage.
Maintenance needs—Wood must be sanded, stained, treated, and properly maintained to stay in great shape, which requires plenty of time, money, and commitment.
Mold growth—Mold, mildew, algae, and other unsightly growths can appear on your wood windows, detracting from their gorgeous appearance.
If your wood windows are deteriorating, and you'd like to replace them with an option that offers the enduring beauty of wood without the constant upkeep—look no further than EverWood by Infinity from Marvin.
What Is EverWood?
EverWood is an engineered wood-grain interior finish offered by Infinity from Marvin for their fiberglass windows. When you compare the appearance of natural wood and EverWood, you can't tell the difference—they look exactly the same!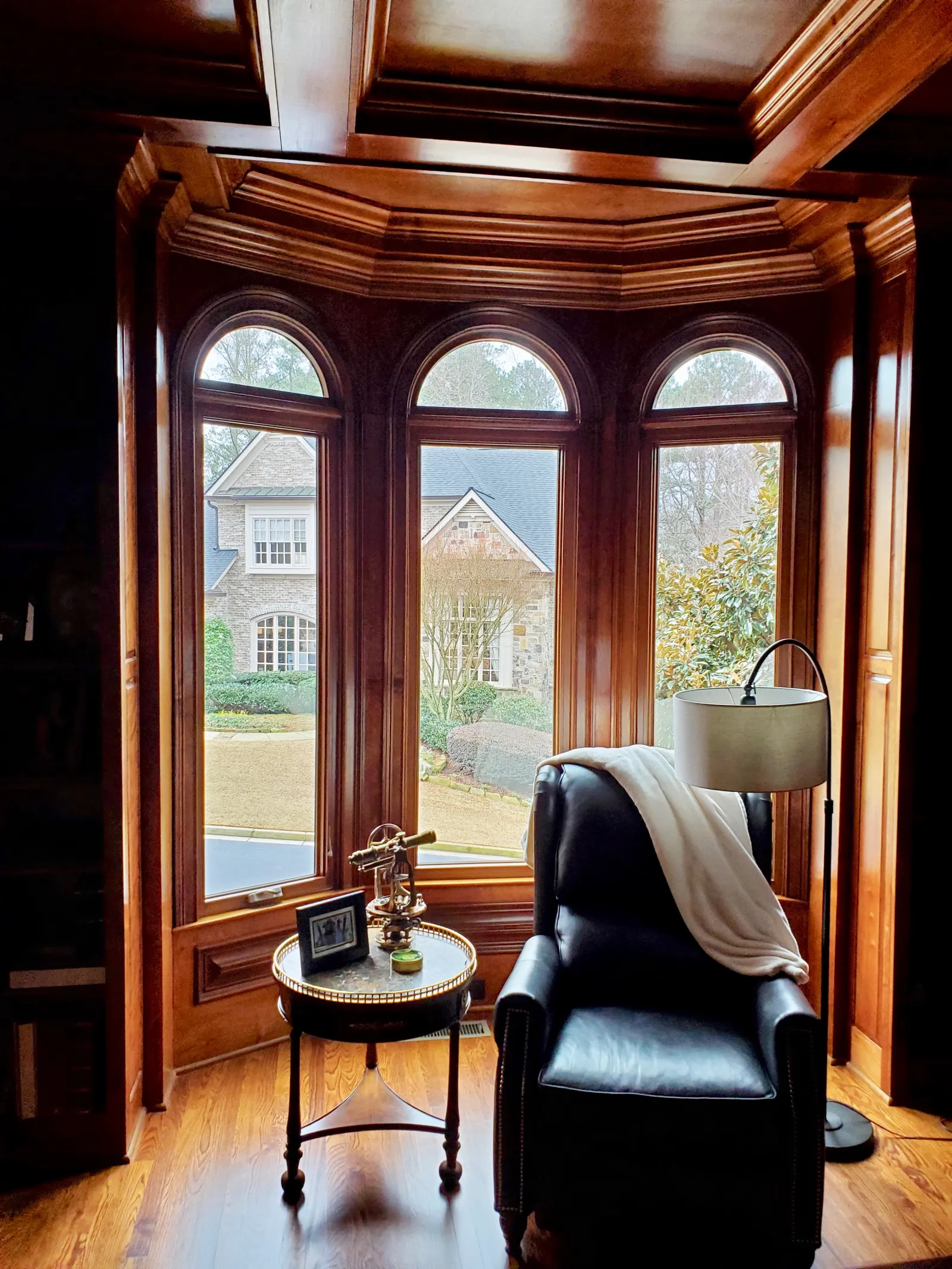 EverWood also paints, stains, and feels just like natural wood. Although it's an inorganic substance, this wood-like material has a pine texture that mimics traditional wood windows, and it can be stained to match your home, just like regular wood.
Desirable Features of EverWood Windows by Infinity from Marvin
Homeowners love EverWood by Infinity from Marvin for the following reasons:
Durable Material
EverWood is an inorganic material, so it won't warp, swell, expand, contract, rot, or decay as time passes. You can be confident your moisture-resistant windows will endure rain, sleet, humidity, and other unpredictable weather conditions that come your way.
Low-Maintenance Upkeep
EverWood doesn't need to be continually sanded, scraped, and painted, so it's easy to care for. As we mentioned, EverWood is moisture-resistant, so it won't grow mold, mildew, or algae, keeping your frames looking beautiful with minimal effort.
Customizable Appearance
Like natural wood, EverWood can be stained to match your home's existing woodwork, like flooring, cabinets, and other interior features. You can stain your new fiberglass windows to match popular woods, like Maple, Cherry, Mahogany, or Walnut (just to name a few options).
Pest-Resistant Composition
EverWood isn't an organic material like wood, so you'll never have to worry about insects or critters pecking, eating, nesting, or burrowing into your frames.
Long-Lasting Warranty
Infinity from Marvin ensures EverWood will adhere to the Ultrex® fiberglass material permanently, so you can be confident your beautiful, wood-like frames are made to last a lifetime.
Stand the Test of Time in Style with Infinity from Marvin Fiberglass Windows with EverWood
It's easy to see why Infinity from Marvin fiberglass windows with EverWood are the perfect option for Georgia homeowners who want to enjoy the warm, inviting appeal of wood windows—without the high-maintenance upkeep.
North Georgia Replacement Windows is the exclusive contractor for Infinity from Marvin fiberglass windows for the entire state of Georgia. We maintain the highest levels of certification with the state and our window manufacturer to ensure we can offer beautiful, durable, long-lasting replacement windows you'll love.
Learn more about the versatile window styles, shapes, and features we offer and install to help you customize your home—including EverWood!