Is hosting guests one of your favorite ways to share your beautiful home with family and friends? If so, you likely already love throwing parties and casual get-togethers on your spacious patio when the weather is nice!
Since your patio is an extension of your living area, it is vital to have patio doors that can create a seamless transition between your home and outside space — like multi-slide doors. Keep reading to discover the benefits of multi-slide doors for entertaining guests during patio season!
What Is a Multi-Slide Door & What Benefits Does It Have for Entertaining Guests?
A multi-slide door is a staple for indoor-outdoor living. Unlike traditional sliding or swinging patio doors with one panel, multi-slide doors have multiple panels that fold, slide, stack, or pivot against the right, left, or both sides of the wall.
Because of this functionality, multi-slide patio doors offer the following benefits for entertaining that regular patio doors cannot provide:
Seamless Transition
Throw open your multi-slide doors to effortlessly blend your home's comfortable interior with your gorgeous patio.
Whether your patio aligns with your kitchen, living room, or dining room, it will be easy for guests to move from one place to another, like from the swimming pool to the kitchen for a drink or from the sofa to the grill to grab a burger.
Larger Pathway
If you are hosting a party and need to move bulky furniture and décor items from inside your home onto your patio, moving them through a traditional patio door can be a hassle.
Fortunately, with a multi-slide patio door, you will have plenty of space to move items from the inside to the outside (and vice versa). Plus, if you are serving dinner outside, it will be easy to transport items from the kitchen to the al fresco dining space.
Stunning Views
Traditional patio doors tend to be small, so they don't offer a very good view of your patio from inside your home. However, multi-slide doors offer just the opposite. They expand your line of sight and provide unobstructed views of the outdoors, making your patio feel more spacious.
Exceptional Ambiance
Multi-slide doors are more than just a functional design decision. They can truly elevate the way an entire space feels.
For example, these doors invite more natural sunlight into your home than a traditional patio door, so they can make your space feel brighter and more welcoming for guests. When opened, they also usher fresh breezes inside, which can help keep your home cool and crisp instead of stuffy and hot when several people are gathered.
Added Value
In addition to the unique benefits multi-slide doors offer for entertainment, they also boost the value of your home. Future buyers will covet this upgrade when it comes time to sell your home — especially if you have a gorgeous patio space to pair with it.
However, you can still enjoy the cost-saving benefits of multi-slide doors now. These doors help regulate the temperatures in your home. When the weather is nice and you open the door, you may not even need to turn on your A/C — leading to lower heating and cooling costs.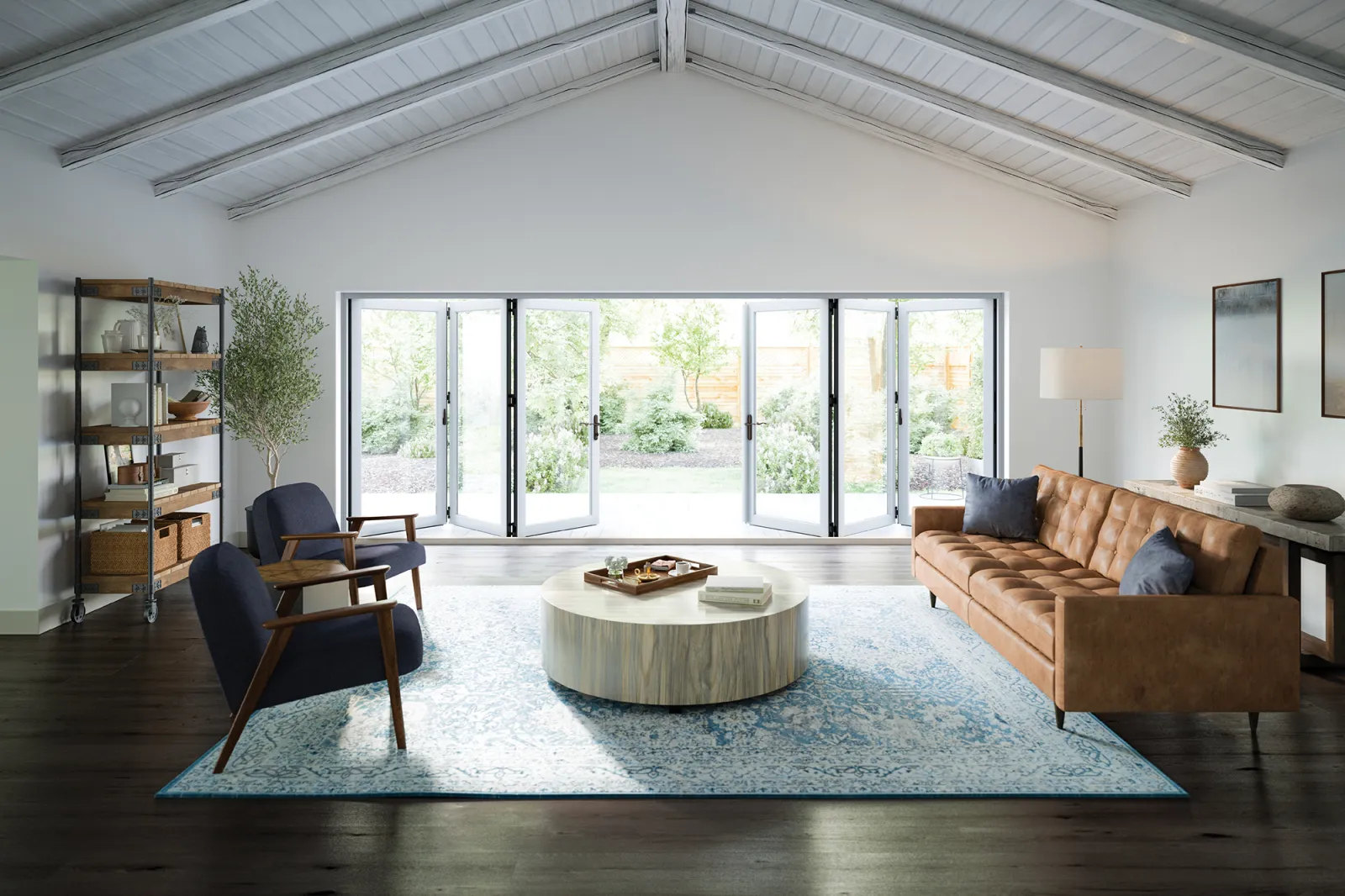 Creative Ways to Utilize Your Patio to Entertain Guests
Al Fresco Dinner Party
Surprise your dinner party guests by seating them outside on your patio, where everyone can enjoy evening breezes and atmospheric lights. Moving a dinner party outdoors takes guests away from the smells and sounds of the kitchen to a more unique and creative environment.
There are endless possibilities for creating your outdoor oasis with sliding patio doors. Whether it's a birthday or anniversary, you'll be sure to wow your guests with an extraordinary experience. Decorate your dining table with shallow bowls filled with water, where you can float fresh flowers like gardenias or peonies, or candle night lights.
Cozy Suppers
Mild nights are the time for cozy evenings outdoors with friends and family. Bi-fold doors can help accommodate your larger gatherings with their unique operating system that allows you to connect the inside of your home with the outside. Fold back the doors and accent your patio seating with large, soft cushions.Set up a chiminea or similar patio heater when the evenings turn chilly and enjoy a cozy setting with good food and fellowship.
Backyard Picnic
When you're confident that your patio looks great, there is no need to go beyond your own home for a chic picnic. Invite your loved ones over on a sunny afternoon for outdoor fun with sandwiches, salads, pastries, desserts, and other tasty picnic snacks. When everyone is done eating, your lawn or pool is close by to work off the calories with games.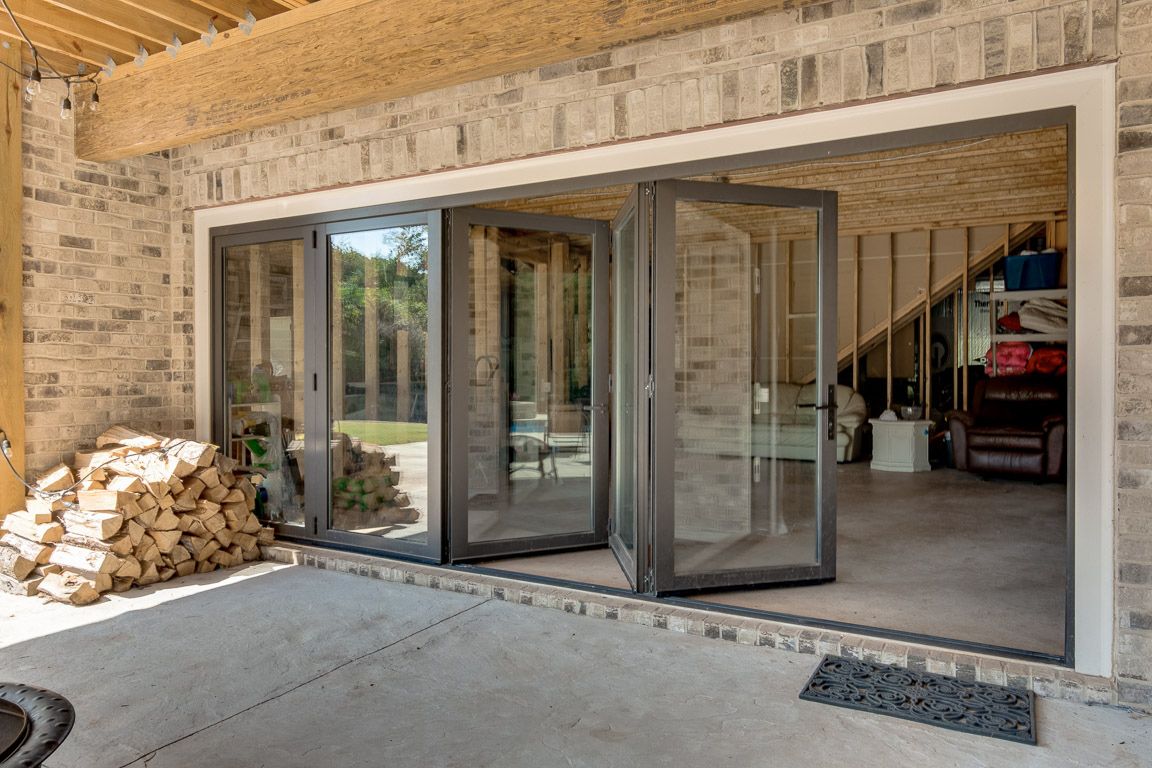 Discover the Multi-Slide Door Options We Offer at North Georgia Replacement Windows
However you like to entertain, whether it's large parties buffet style or smaller, more elaborate meals, multi-slide doors are sure to enhance your view and accessibility to the outdoors.
If you are ready to create a seamless transition between your patio and living space to make entertaining a breeze, it's time to install a multi-slide door from North Georgia Replacement Windows. Browse the different styles of multi-slide doors we offer from Infinity from Marvin® and Euro-Wall Systems® to determine which one is the perfect fit for your home.
Contact us now for more information!