Have you ever wondered what certain parts of a window are called or what their function is? Because, let's be real, most homeowners have never replaced their windows before, and there can be a lot of 'industry talk' that is confusing and hard to understand.

Keeping in line with our goal to make window shopping simple, today's blog is all about window 101- the basics of window terminology.
Let's get started…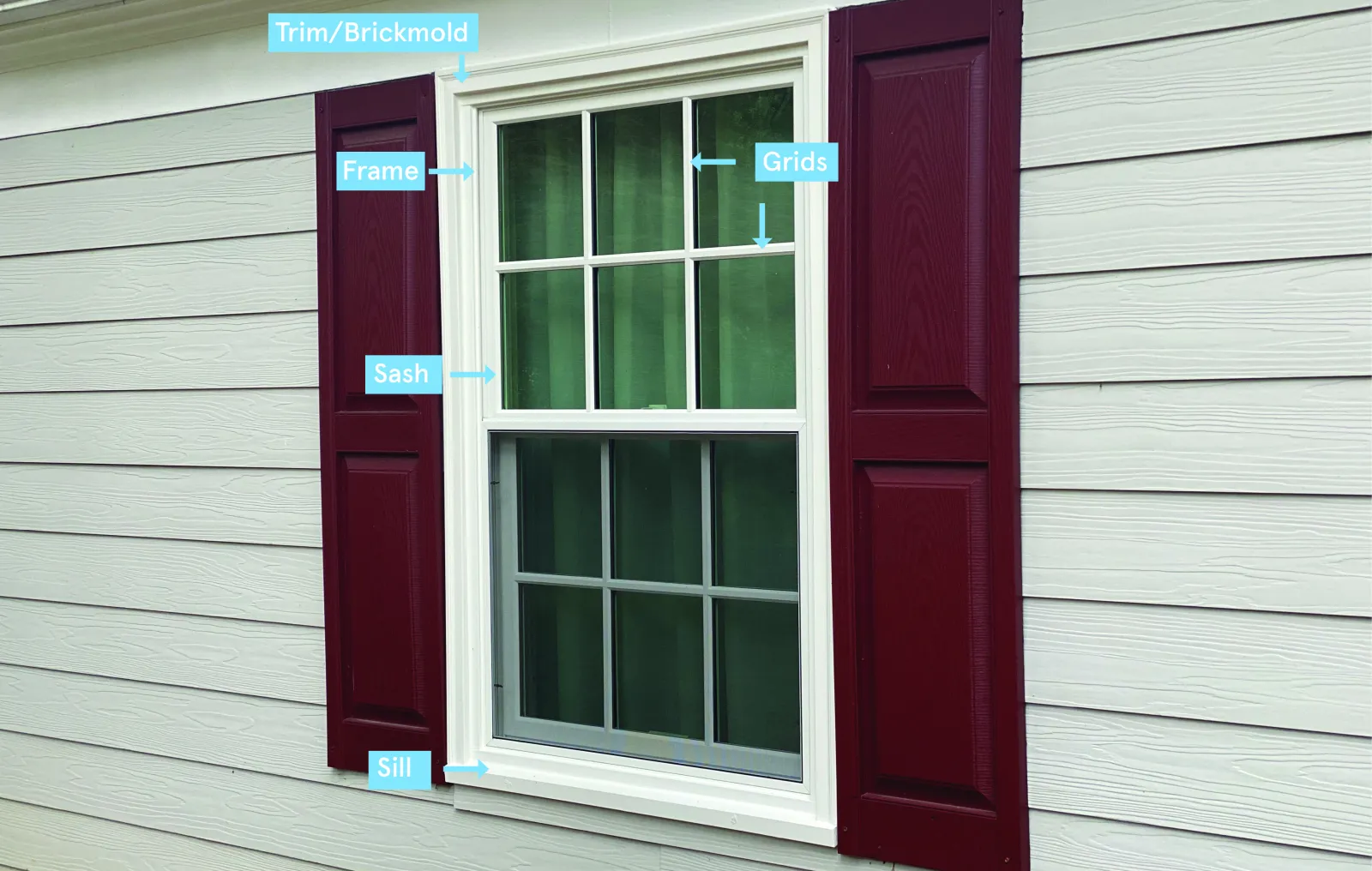 1. Frame - what holds the window together or, simply, the outer part of your replacement window. This is one of the most important parts of your window, so it's smart to educate yourself on the best window frame material option.
• When we talk about the Infinity Fiberglass windows being made of solid Ultrex® fiberglass, we are referencing the frames being fiberglass. (There is still glass in the window to look in and out of.)
2. Trim/Brickmold - this is separate from the window itself. It is the decorative material - often wood - that goes around the two sides and top of the window on the outside of your home. Think of the trim/brickmold as a picture frame that frames in your window. (Don't let the name confuse you. Brickmold is used on homes regardless of them being brick or not!)
• If the trim is rotting or in bad shape, we can replace it when we are replacing the windows; however, it does not have to be replaced just because your windows are getting replaced.
• On the other hand, if your trim/brickmold is rotten and the window is in perfect condition, you can replace these pieces without needing a new window. Most handymen or painters can help you with this. We recommend using a composite material that does not rot.
3. Sill - A sill is often confused with the interior window "shelf" at the bottom of the window. This interior window "shelf" is actually called a "stool" in the window industry. The sill is on the very bottom of the exterior of the window and it is split into two pieces - the sill and the sill nose. It is very common for the sill to be the first component to rot on wood windows. One reason for this is because of the exposure it gets to water. It is always sloped on wood windows so that when water hits your glass, it drops to the sloped sill and runs off the house. You can think of this as a water slide for your windows. Because it gets so much water, it rots quickly. Another reason the sill begins to deteriorate is due to its exposure to the sun and elements. If the sill is rotten, you should replace the window to permanently fix this issue. When researching replacement windows, avoid flat sills and weep holes if you can as they do not allow for proper draining.
4. Sash - Most Georgia homes have 'double-hung' windows. That means you have two sashes - a top sash and a bottom sash - and both move. If you are ever confused by the term single-hung, this means only the bottom sash moves and the top sash is permanently fixed. All windows have sashes - casements, sliders and even picture windows.
5. Grids (sometimes referred to as grilles or mutins) - these are optional and help divide the glass up into 'lites'. There are two main types:
• GBG (grids between the glass) - these grids are between the two panes of glass and cannot be touched.
• SDL (simulated divided lite) - these are bonded to the exterior and interior of the window and can be touched on both sides of the window. These provide the illusion that the glass is divided up into separate panes of glass like older, traditional wood windows.
> Click here for more information on grids.
It's time for a quiz!
Q: Are any of these parts on your window giving you a problem?
A: It may be time to replace your windows.
We will educate you on window replacement and show you what we have to offer. Your stress-free experience includes a quick, accurate proposal without pressure or pricing games.
Give us a call today to set up your free consultation!