Learn how stacking doors completely transformed this customer's space as we do a case study inside the Atlanta Athletic Club's recent renovation.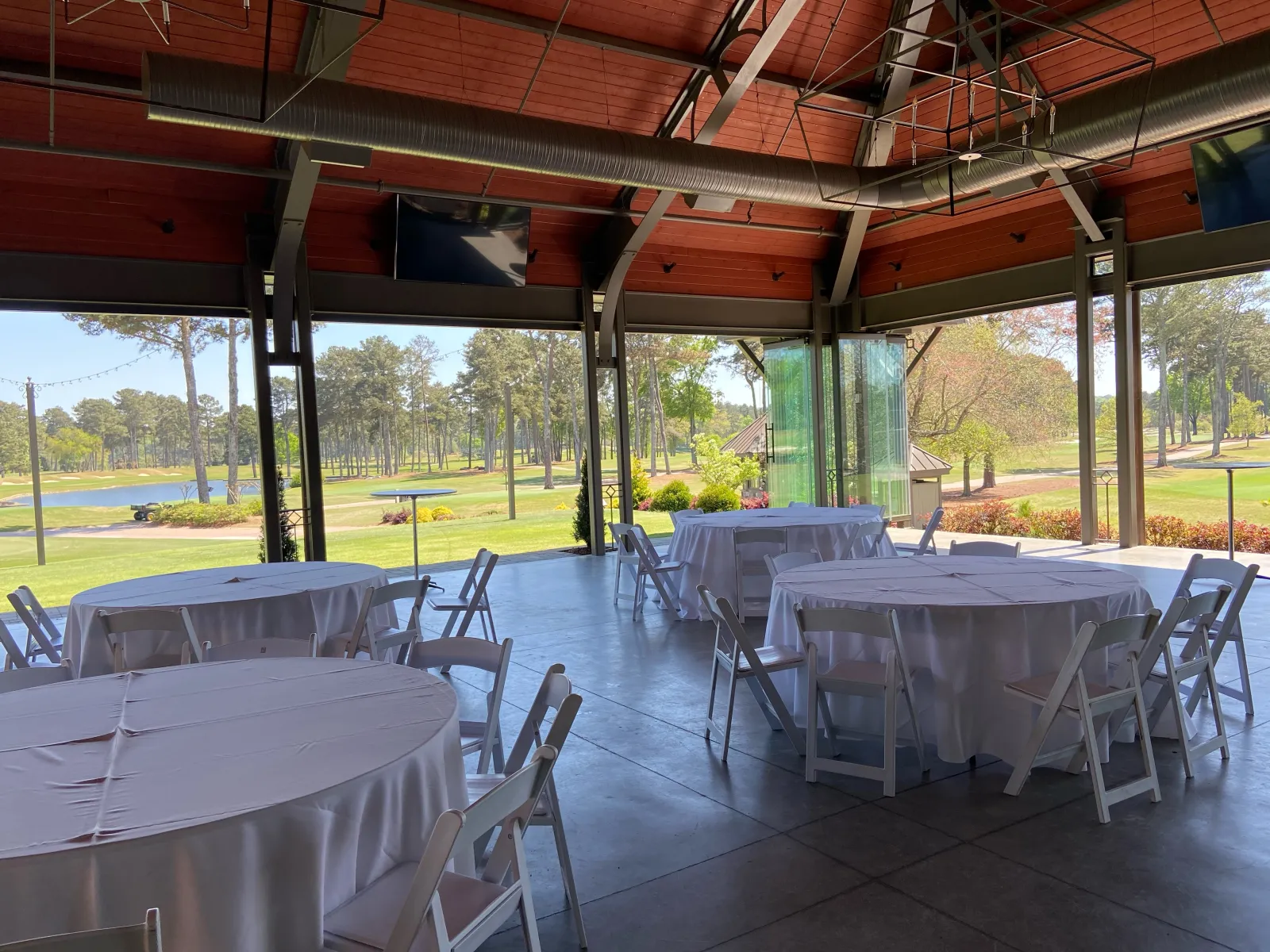 The Client:
Founded in 1898, the
Atlanta Athletic Club
(AAC) moved from Atlanta to northern Fulton County (now Johns Creek, GA) during the late 1960s and early 1970s. The club is home to many social and athletic events for both families and individuals, with two championship golf courses, a 42,000 square foot athletic center, indoor and outdoor tennis courts, and more.
The Challenge:
The AAC wanted to use this particular pavilion space year-round. However, with no protection from the outside elements, it severly limited their ability to utilize the space. Whether it was blowing wind and rain or extreme temperature swings, in both the summer and winter, these uncontrollable factors helped create the need for enclosing the space.
One look at the space also lets you know that loosing the beautiful views was not something the AAC wanted. Whatever solution they decided upon to enclose their patio space could not disrupt this in any way.
The Solution:
This door system could be retrofitted into the AAC's existing pavilion space with minimal structural modifications. One of the club's big requirements was that they wanted a door with no sill. This would enable guests to move freely between the indoor and outdoor spaces without the possibility of a tripping hazard. Likewise, it enabled the existing concrete slab to be used as the base of the door system.
The frameless panels were also perfect in preserving the surrounding views. They could enclose the patio for events to create a comfortable environment without any fear of losing the beauty.
With North Georgia Replacement Windows partnership with Euro-Wall, coupled with their detailed installations, it turned out to be a perfect fit for the project.
End Result:
The end result was a beautiful event space that is now able to be used year-round. The frameless door panels helped preserve the space's gorgeous view and keep the natural light coming into the space. At the same, the outside elements are now able to be just that - OUTSIDE elements. Whether it's a wedding reception or another event, the Euro-Wall door system provided a wonderful upgrade to the Atlanta Athletic Club.
Watch below to see the completed project tranformation!
For more information on how you can transform your space - weather commercial or residential - with the Euro-Wall stacking or bifolding door systems,
contact us
today!