Getting new windows installed can be both stressful and exciting at the same time. On the one hand, you're finally getting rid of those leaky, old windows and replacing them with beautiful and durable energy-efficient windows. On the flip side, your home is about to undergo a major renovation. But it doesn't have to be chaotic or stressful. With a little bit of prep work, the window replacement process will go a lot smoother. Here's what you need to know.
How to prepare for window replacement
When you're getting windows replaced, you're probably wondering how do replacement windows get installed? Besides natural curiosity, it's good to know how the window replacement process unfolds ahead of time so you can be prepared before installation day. For starters, window installation varies depending on the type of window, the construction of your house, the exterior facade (brick, wood, masonry, etc.,) and how your original windows were installed. An experienced contractor will address the entire window replacement process and answer all your questions before and during the process. Here are a few things to keep in mind.
Someone from North Georgia Replacement Windows will arrive on the scheduled installation date. They will then do a walk-through to point out special considerations of your home - both inside and out - where the crew may be working. Although you don't have to be at home during the entire window replacement process, plan to meet someone from the production team at the beginning for this initial walkthrough of the project. Likewise, you'll want to be there once the installation is complete, as someone from the team will inspect the area to make sure everything has been cleaned up to your satisfaction, as well as take the time to make sure you know how to operate your new windows and/or doors.
Check-in with your security alarm company
Alarms are something that your design consultant should have gone over with you during the initial consultation. If you opt to have a certified alarm technician handle reconnecting your alarms, then it's good to call your alarm company and set up a time for them to come handle this shortly after your installation is complete. North Georgia Replacement Windows' installers will simply leave the alarm wires accessible for your alarm company to reconnect. However, if you choose to have the window company reconnect your alarms, this must be taken care of on your installation day.
Clear a space near the windows inside
Prior to your installation, you'll want to clear the path for installers to work and protect your household belongings. Begin moving furniture and rugs away from your windows and doors, removing any window treatments. Remove curtains, drapes, blinds, and any artwork or fragile knick-knacks that are near the window. If you need assistance moving large items, North Georgia Replacement Windows can help; however, we do ask that you handle moving any antiques and valuable items. Installers will use drop cloths to protect the floor from dust or scuff marks.
Make way for installers outside
Look for potential obstacles near the windows. Clear working areas of patio furniture, potted plants, lawn ornaments, grills, garden hoses, etc. If you have prized flower beds or flowering bushes near the windows, you may want to have the installers toss a drop cloth on them to keep debris and dust from falling on them. Consider moving delicate plants temporarily if you're concerned about them getting stepped on. Trim back overgrown bushes, especially prickly rose bushes, so that the installers can have easy access to the window.
You certainly don't have to lock up your kids and pets, but they should be a safe distance from the installation process. You might want to kennel your pets and arrange a day out for younger children. There's a lot of materials and equipment they could get hurt on, or they could get underfoot and accidentally injure or trip up an installer.
How messy is window replacement?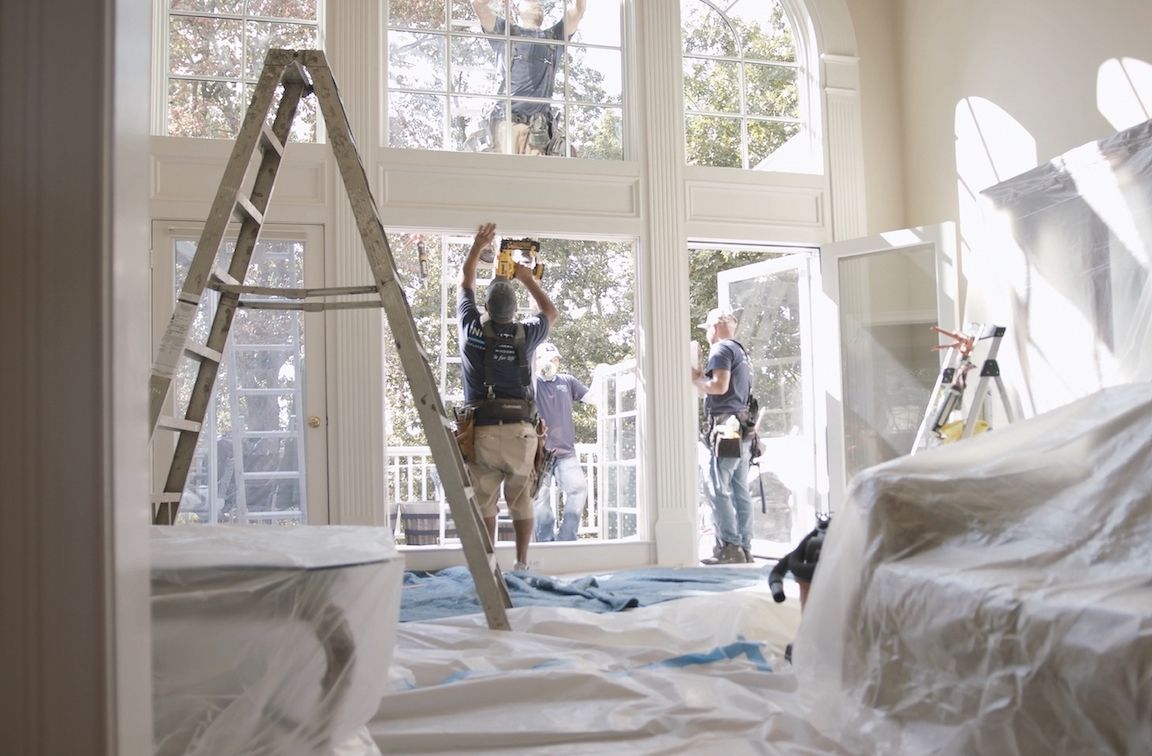 That depends on your home and how your custom windows are required to be installed. Windows installed by North Georgia Replacement Windows involve a non-invasive process, meaning they do not remove or disturb the interior trim. So, you won't have to worry about repainting or staining on the inside. The majority of the installation happens outside the home; however, the installers will still need to come on the inside of your home to properly secure and seal your new windows. (The exception to this is metal/vinyl window replacement and new construction frames when required.) And you won't have to worry about critters, birds, or rain making a mess entering gaping holes in your walls overnight. Old windows are only removed if installers can replace them the same day. And even if they aren't completely fitted, the installer will secure and make them weathertight. Once the windows are installed, the crew gets busy cleaning the work areas inside and hauling away work-related debris.
How long to install new windows?
By and large, the actual window installation is a relatively quick process. It typically only takes a day or two to complete the project. Of course, it depends on how many windows are being installed and the type of windows you are replacing. For example, specialty windows usually take a bit longer to install than double-hung windows. The longest part is actually the lead time to custom manufacture your new windows. But it's all so worth it when you invest in replacement windows. Ultrex® fiberglass windows have a smaller frame than vinyl windows and therefore allow more glass surface area. That means you'll be basking in more natural sunlight while gaining a larger view outside. And with a limited lifetime warranty, you'll be enjoying the view for many years to come.
Give us a call today or visit us online to be on your way to getting your new windows replaced!