Are you considering turning that random room used for storage into a bedroom to give your in-laws a place to stay during the holidays? As home renovations are already stressful enough, having renovations done that do not meet code can be much more stressful. This blog will provide you with some things to keep in mind during the remodel. Any room that will be intended for a bedroom must follow these requirements as a fully-compliant EERO (emergency escape and rescue openings) window, aka egress.
Safety should always be a priority for you, your house, and anyone inside of your house. Before installing just any window, check that it meets code with the height and width, as well as the area directly in front of the window. These safety measures allow for a quicker emergency escape and easy access for rescue teams. Safety also includes the glass on the window. There are places inside the house that are more hazardous than others, and those must be made safe by either tempered glass or security film. The International Residential Code has 7 places deemed hazardous, so check these areas before renovations begin. Below are listed a few: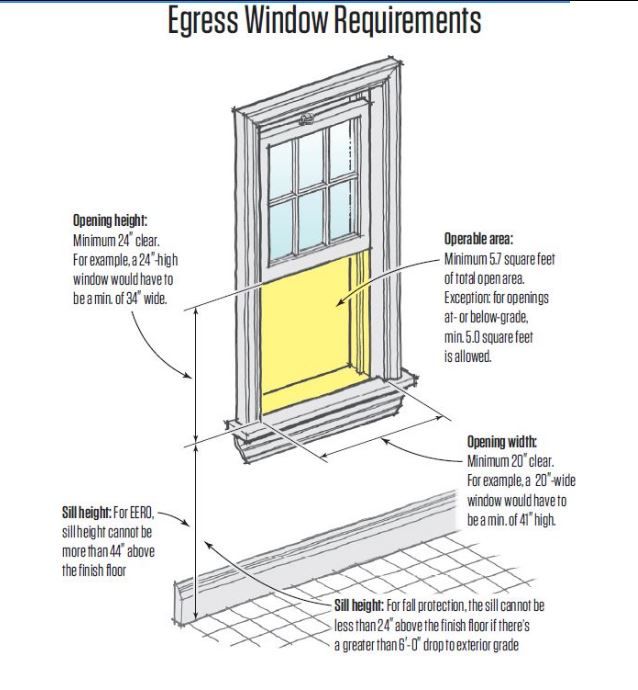 ·Glazing, aka glass, in and near swinging and sliding doors
·Large lites of glass near walkways
·Glass around tubs, showers, pool, and similar fixtures
·Glass near stairways, ramps, and the landings for both
Along with emergency safety is fall protection. We all know how children like to run around and goof off, so this will help add an extra layer of security for your little ones. If your sill height is less than 2 feet from the floor to the window inside the house, then that window cannot be more than 6 feet from the ground to the window outside. If you intend on changing your windows on levels higher than the ground floor, then the sill must be taller than 2 feet from the floor to the window inside the house.
The final things to consider are material used and style of window. Depending on which type of material is used, there could be a change in size, which could result in a smaller opening and would therefore have the window be in code violation. Should the size end up changing due to the material used, a different style of window might need to be installed, which could result in a loss of money and unnecessary frustration. As an example, our Infinity from Marvin fiberglass windows have smaller frames which translates to larger openings, thus saving clients the time, hassle, and money of buying a window that cannot be used.
Having more peace of mind during a remodel is possible when you know the safety requirements to follow. It does not have to be a burdensome and frustrating process as some may think. Checking these requirements will keep your project less stressful for you and may also save you money. So go out and make your home unique knowing that it will be safe for you, your family, and all those visiting.
For more details on this and the full article, go to https://www.remodeling.hw.net/business/code-quandaries-the-four-major-aspects-of-code-compliance-for-windows
For more information on hazardous locations, go to https://www.nachi.org/safety-glass-for-inspectors.htm or https://up.codes/s/hazardous-locations
For more information please contact us by visiting our showroom, calling us at 770-888-1604, or clicking here to fill out our online form.